We Play for Each Other
June 2022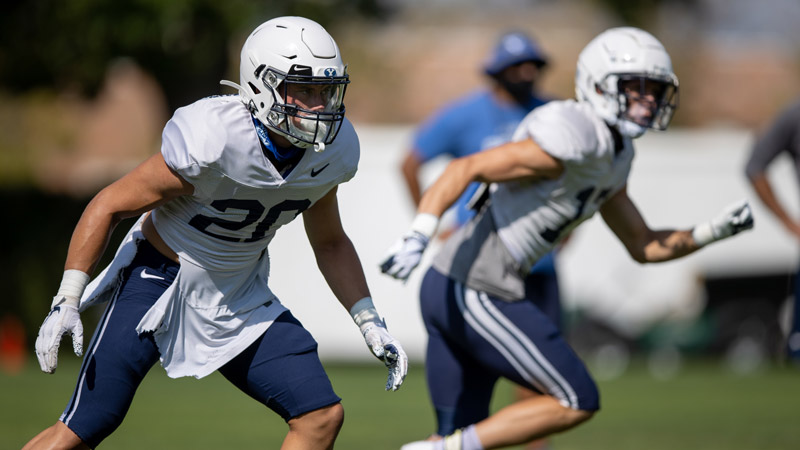 Walk-on safety Hayden Livingston is finding growth at BYU both on the field and off.
Initially, fourth-grader Hayden Livingston wasn't sure about football. He played the game during recess one day, and a friend suggested he join the local team. His father gave an un- qualified "no" that evening, but Hayden's friend was insistent, and together, they wrote a list of reasons why he should.
"My dad saw this list and said, 'Yeah, you can play,'" he remembers. "But he made me promise two things: that I'd be the first one on the field and the last to leave—the hardest worker—and that I'd be the best teammate and supporter and always put the team first."
Hayden didn't love practice. But in his first game, his team was down by a touchdown with seconds left to play. The quarterback threw a 35-yard Hail Mary pass, and Hayden caught it for the game-winning touchdown. "That was the turning point for me," he says. "I was like, 'Dang—I really do like this game.'"
After scoring 96 passing and rushing touch- downs as a high school quarterback, Hayden was invited to visit BYU and then to walk on. He completed a redshirt season before serving a mission to England, but when he came back, the quarterback position was full. Eager to get back in the game and remembering his father's advice, he switched to safety.
"I just wanted to contribute any way I could," he says. "Quarterback to defensive back is a jump, but I was willing to do whatever. I was super excited to be back playing the game."
His decision to go to BYU wasn't all about football, either. "From a spiritual aspect, especially when you come home off a mission, it's a great fit for helping me better myself," he says. "From an academic standpoint, it's a mix of challenging and rewarding. The classes stretch you and help you grow."
One of his classes put him in proximity to a member of BYU's women's volleyball team named Erin Anderson. "You can't miss the volleyball players because they're so tall," he says. "That semester, our defensive backs coach held a dinner as a team-bonding activity and said, 'You have to bring a date.' I thought, 'I have the perfect person in mind.' I was pretty nervous going to class, but she said yes, and we had a great time."
Hayden and Erin married in the summer of 2020. You might expect challenges for two newlyweds whose sport seasons overlap, but on the contrary, life and sports have only gotten better for both athletes. In 2021, Hayden man- aged two interceptions, a fumble recovery, and 13 tackles and assists. Erin, meanwhile, saw her point total rise from 172.5 in 2020–21 to 257.5 in fall 2021.
"It's just about getting 1 percent better every day," Hayden says. "The culture of BYU football is very team oriented. We work hard for each other; we play for each other."
If you ask for the secret to success, however, both Livingstons can tell you it's the support from fans and donors. "It's hard to put into words how much credit Cougar Nation de- serves," Hayden says. "Donors have helped us with a new locker room and equipment. As a walk-on, I especially appreciate the NIL deals that have come through. We're doing every- thing we can to make them proud with our actions on and off the field."