It's So Cool to Live Out My Dream
May 2023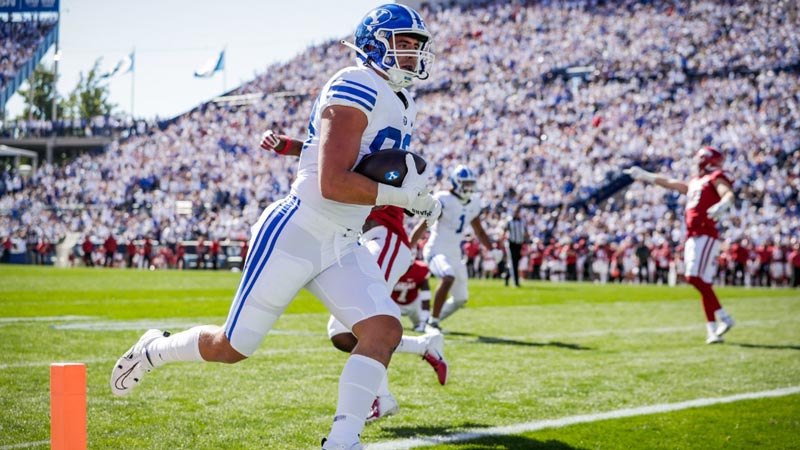 Growing up as the son of All-American Cougar tight end Byron Rex, Isaac Rex loved everything about BYU. Each year he and his family would travel to attend a BYU football game, and every Memorial Day weekend, he and his brothers and father would go to the BYU Fathers and Sons Camp. "That was my favorite time of year to be in Provo," he reminisces. "I did that from when I was 8 years old until I was 18."
After serving a mission to Samoa, Rex came to BYU—the only university he'd even considered. In his freshman year, he recorded one reception for 23 yards against UMass, and he learned a lot under the mentorship of the starter, Matt Bushman. The next summer when Zach Wilson started traveling to California to work with John Beck, Wilson stayed at the Rex household, and Rex found himself catching a lot of footballs thrown by BYU's soon-to-be starting quarterback.
But then one day in practice, Bushman suffered a season-ending ankle injury, and Rex was thrust into the spotlight. "That was one of the saddest days of my life," he remembers. "Me and Matt Bushman are great friends, and I hated to see that for him because he's been so good to me ever since I got here. But I had to step up."
The Cougars' first game that year was against Navy, and because it was the first college football game to be played during the pandemic—the only football game at all on television at the time—it got a lot of attention. "It was on ABC, and Kirk Herbstreit was calling the game," Rex says. "I don't think I've ever been so nervous in my life. But once you're on the field, it's like, 'Okay, now we're playing football.'"
Just a few weeks later, Rex caught his first touch- down pass as a Cougar in a game against Troy. In October, he caught two more against Texas State. And by the end of the season, he'd scored 12 touch- downs and become one of Wilson's favorite targets.
"It's surreal," Rex says. "Playing for BYU was my dream, and every time I get a catch or a touchdown, it's so cool to live out my dream."
But in the next season, 2021, that dream was almost derailed in the last game of the year. Rex went to the back of the end zone for a goal line play, jumped up to catch the pass, and then his ankle folded underneath him as he hit the ground. Rex left the field on a golf cart and later had multiple surgeries to repair broken bones in his lower leg. His wedding to Utah Valley University volleyball player Lexi Davies was only six days away, and even that had to be postponed.
"I couldn't walk for 10 weeks," he says. "I was in the hospital for two weeks. It was during COVID, so my family wasn't even allowed to visit me. I learned to rely on my Heavenly Father a lot during that time. I learned how to become a more resilient person."
In spite of that obstacle, when BYU faced South Florida the next September, Rex was on the line of scrimmage alongside his teammates. He played in all 13 games, starting in 12 of them and catching six more touchdowns. After the Cougars' bowl victory against Southern Methodist University, he had an opportunity to declare for the NFL draft, but he chose instead to stay at BYU for one more season.
"If you'd told me I'd have the career that I've had at BYU before I came here, I would've thought you were crazy," Rex says. "BYU is like this magical place where you can have it all. There are so many great people who are willing to help you out and who want to see you succeed. It's been everything I expected and more, and I can't thank donors enough for their amazing support."