Gift Planning Services (GPS)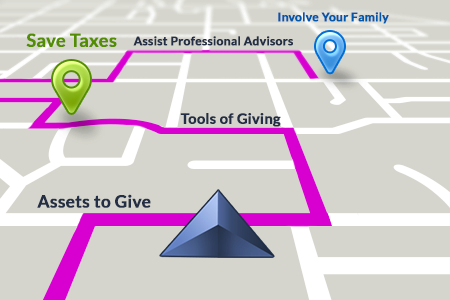 Helping You Navigate Ways to Give
Gift Planning Services (GPS) is like a Global Positioning System that shares the same acronym, in that it can help donors navigate ways to give. GPS can help donors consider assets they can give other than cash that may be more tax-efficient and allow them to make a larger gift than they thought possible. GPS can help donors consider gift vehicles that provide them an income, save taxes, and/or involve their family in their giving. In sum, GPS deals with the what (assets) and the how (tools) of giving. GPS also assists professional advisors with navigating the what and how of giving with their clients.
Gift Planning Services (GPS) at Philanthropies came into existence in 1973 to provide assistance to you and your professional advisors (attorneys, accountants, and financial planners) in those situations where a charitable gift is an important part of your overall estate and financial plan.
Staffed by attorneys, financial planners, and knowledgeable philanthropic giving personnel, GPS works with your advisors to provide you with the most current charitable techniques, laws, and trends supplemented by years of financial and legal planning experience. We provide you and your advisors with a source to consult with confidentially regarding charitable giving questions or concerns. We seek to assist you in accomplishing your goals. Keeping that in mind, we are focused on helping you strengthen your family and bless the lives of others through gift planning.

Contact Us
For a detailed discussion of the services we provide you and your advisors, please contact us at 1-877-650-5377 or by email.