BYU-Hawaii
With a focus on serving students from Oceania and the Asian Rim, BYU–Hawaii strengthens the global Church by preparing students who will serve as leaders in the families, communities, careers, and stakes of Zion worldwide.
Giving Opportunities
By giving to BYU–Hawaii, you can make a world of difference for students from around the world. Donations go to financial aid and help the university serve more students who stand to benefit the most from BYU–Hawaii: those with potential that far outweighs their means.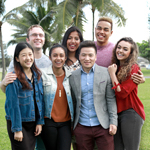 IWORK
IWORK is a work-study program for international students that provides financial aid while teaching self-reliance.
Give
Learn More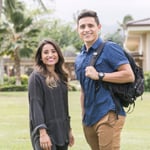 General Scholarship Fund
The General Scholarship Fund provides need-based and merit-based financial aid to domestic and international students.
Make a Gift
"Your support for BYU–Hawaii is incredibly important. I want to express my deepest gratitude to you for your past, present, and future support. Together we can bless the lives of many more students in the future. Mahalo."
- President John S.K. Kauwe III
Make a Gift

BYU-Hawaii President's Report
In October 2021, after more than 15 months at the helm, John S.K. Kauwe III was formally installed as the 11th president of BYU–Hawaii in a time-honored inauguration ceremony, presided over by Elder Jeffrey R. Holland.
In his address, President Kauwe outlined his vision for BYU–Hawaii that includes a reinvigorated effort to bring the right students to BYU–Hawaii. "The prophetic direction is clear," he said. "BYU–Hawaii exists to serve a specific population, . . . [and] when we serve the students we have been directed to serve, they will lift and build the Church and their communities in the Pacific Islands and Asia. Their impact for good will spread across the globe and be felt for generations."
Read More