Ensign College
Ensign College provides a market-driven, skills-based education with associate and bachelor's degrees offered in fields where employment demand is high and entry-level earning potential is excellent.
Giving Opportunities
Current fundraising priorities at Ensign College include scholarships focused on needs-based student aid as well as scholarships for students who demonstrate leadership and service. Student aid scholarships support internships, leadership, missionary service, international students, and PathwayConnect graduates.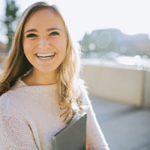 Ensign College Student Financial Aid Fund
Give students the opportunity of a lifetime to receive an education and launch their careers through your gift.
Give
Learn More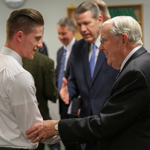 M. Russell Ballard Service and Leadership Scholarship
Support students who work towards exemplifying President Ballard's legacy of leadership and service.
Give
Learn More
"For anyone that is worthy, willing, and qualified, we warmly welcome you to an institution that is a beacon of hope and opportunity."
- President Bruce C. Kusch
Make a Gift

Ensign College President's Report
I encourage you to seek solutions to your questions, worries, uncertainties, and even your doubts from authentic and reliable sources—from those who know—and to trust and believe these sources, even if your response to the doctrines and teachings of The Church of Jesus Christ of Latter-day Saints might initially be "I don't think so."
There are innumerable voices competing for our time and attention every day, seeking to influence what we watch, listen to, purchase, and wear and how we think and act. In the end, there are only two voices: the voice of the Good Shepherd who is constant in calling out to us, and the voice of the adversary who is unceasing in seeking to represent evil as good.
Read More