Ensign College
Ensign College provides a market-driven, skills-based education with associate and bachelor's degrees offered in fields where employment demand is high and entry-level earning potential is excellent.
Giving Opportunities
Current fundraising priorities at Ensign College include scholarships focused on needs-based student aid as well as scholarships for students who demonstrate leadership and service. Student aid scholarships support internships, leadership, missionary service, international students, and PathwayConnect graduates.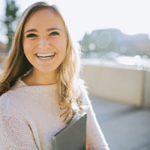 Ensign College Student Financial Aid Fund
Give students the opportunity of a lifetime to receive an education and launch their careers through your gift.
Give
Learn More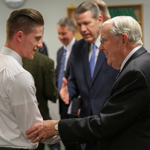 M. Russell Ballard Service and Leadership Scholarship
Support students who work towards exemplifying President Ballard's legacy of leadership and service.
Give
Learn More
"For anyone that is worthy, willing, and qualified, we warmly welcome you to an institution that is a beacon of hope and opportunity."
- President Bruce C. Kusch
Make a Gift

Ensign College President's Report
While I was living near Los Angeles in the 1960s and early 1970s, it was easy to be a fan of the UCLA Bruins basketball team and their coach, John Wooden. They were perennial champions. Not only was he a great coach, but Wooden was also known as a man of great character. He once said, "Be more concerned with your character than your reputation, because character is what you really are, while your reputation is merely what others think you are."
I am confident that your character has already been tested—and undoubtedly more than once. Tests of our character are intended to be an essential part of our mortal probation. It is how we become agents unto ourselves (see Doctrine and Covenants 29:39). The Savior's character was tested by Satan following 40 days of fasting as He began His mortal ministry.
Read More