A Tale of Two Seasons: Tackling Athletics in a World with COVID-19
December 2020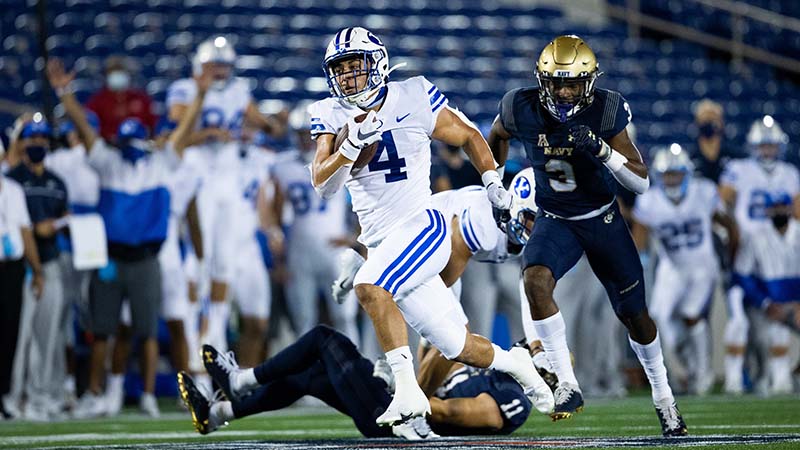 In the face of unprecedented challenges and looming uncertainty, BYU football opened its season with a dominant 55–3 win over Navy. A week later, the Cougars were ranked 18th — the highest since 2014.
As news of the pandemic reverberated across campus in March, BYU athletic director Tom Holmoe sat in the top suite of LaVell Edwards Stadium, where he and the Athletics staff had relocated during an office remodel.
At that same moment, the BYU men's basketball team was eagerly waiting to hear where they'd seed for the NCAA tournament. The men's and women's track and field teams were at the NCAA indoor championship in Albuquerque. And the softball team was at a tournament in Alabama. BYU Athletics was on the homestretch of what had been one of the brightest years in program history.
The disruption of the pandemic, of course, changed all of that.
"There was a big-screen TV set up on the floor, and these basketball tournaments were getting canceled left and right," he remembers. "The next day, the NCAA canceled all sports. I thought it was a possibility, but it was still like having a pail of ice-cold water thrown on you.
"Last year was kind of a tale of two seasons. The first was a very joyful and rewarding experience with our student-athletes, coaches, and teams playing so well. And the other was the cancellation of our spring season."
Although the NCAA granted more eligibility to seniors, with no spring season, many student-athlete seniors chose to graduate, go on missions, or start careers. Still, some chose to stay.
"…we have some incredibly strong relationships with donors who are super supportive of the Athletic Department and who have stepped up in a big way this year…"
"Regardless of what they chose to do, I think young student-athletes are extremely resilient," Holmoe says. "They sink a lot of emotional energy into their sport only to have the rug pulled out from under them like that. But they moved forward. They really inspire me. I love 'em."
Facing Challenges Head-On
As disruptive as the initial news was, the uncertainty around the fall season made for a stressful summer at BYU Athletics. As Holmoe and his staff awaited the decisions of various athletic conferences, they looked at alternatives and tried to determine how to have collegiate sports in the era of COVID-19.
"A day doesn't go by that somebody doesn't say, 'Are we playing football? I need to see some games!'" Holmoe said in July. "At times like this, our teams, players, and coaches realize we can't do it without our fans, without people who care about BYU and the Athletic Department."
Consider for a moment the dilemma faced by athletics departments across the NCAA: no revenue-generating basketball or football seasons, reduced student fees because of lower enrollments, but no reduction in overhead costs—and perhaps an increase in student-athlete scholarships because of seniors who are staying another year. It's no surprise to see universities eliminating teams, paring back travel schedules, and even furloughing employees.
"Most athletic departments are going to lose money - they're going to get knocked down - but it's a matter of whether they have the strength to stand up again or not," Holmoe says. "BYU got knocked down just like every other school. We just want to stand back up and come back strong."
The circumstances that BYU Athletics were in may not have been as dire as they were at some other athletics departments; nonetheless, perhaps more than ever this year, BYU's student-athletes and Athletics staff are grateful for support from generous donors.
"In our case, we have some incredibly strong relationships with donors who are super supportive of the Athletic Department and who have stepped up in a big way this year," Holmoe says. "Our plea to the Cougar Club is to stay strong, and let's get through this together. It's going to be different, but we will do everything we can. We need each other."
Since July, BYU fans have seen a near miracle as Holmoe and his staff managed to piece together a football season that began with a 55–3 blowout against Navy. Of course, in true 2020 fashion, that victory was followed by a postponement of the Army game. Fortunately, the Athletics staff was ready to react and adapt.
"Who knows what tomorrow brings?" Holmoe says. "It's a new day, and we're all eager to take it on."