Cougar Club Accelerates Growth and Success for BYU Athletes
February 2020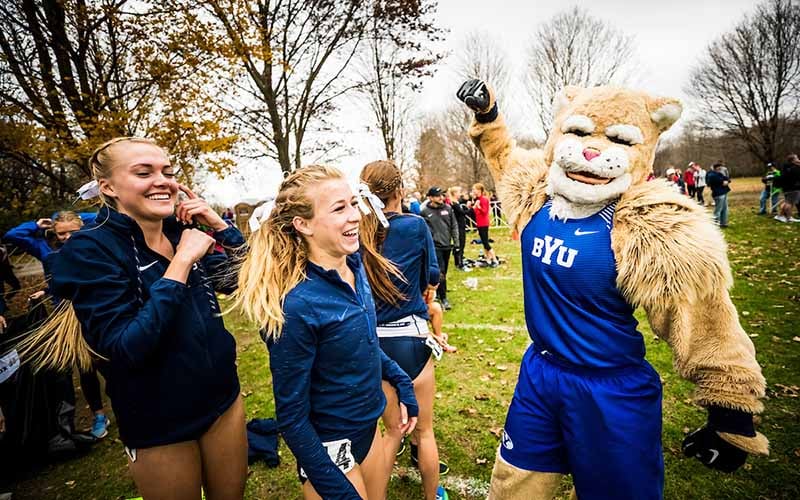 Although intercollegiate sports at BYU began in the late 1800s, BYU Athletics' growth and success over the past half century has been fostered by the generosity and support of the Cougar Club, which celebrates its 55th anniversary this year.
"We wouldn't be who or where we are as an athletic department without our donors," says athletic director Tom Holmoe. "They are the team behind each one of our 21 teams."
In its early years, when Cougar Club first started financing recruiting trips for head football coach LaVell Edwards, the department was so small and underfunded that coaches from other sports would ask Edwards to stop along the way to evaluate swimmers or basketball players as he drove his own car to see recruits in California.
"We've come a long way since then," says director of athletic development Chad Lewis, an All-American tight end in the '90s. "Since I played here, we've built Miller Park, the Indoor Practice Facility, the Student Athlete Building, and the Marriott Center Annex, as well as renovating the Richards Building Pool."
Worldwide recruiting and state-of-the-art equipment and buildings are just the beginning of what donor support does for BYU student-athletes.
BYU Athletics invests more than $2 million annually to provide all 631 student-athletes with meal cards—good for one meal daily—and nutrition centers, which provide supplemental food items for athletes, who can easily burn 5,000 calories in a typical day.
"One former athlete made a major donation specifically to the Nutrition Center," says Cougar Club director Mike Middleton. "He had tears in his eyes remembering being hungry many nights after practice because he'd already eaten the meals he could afford."
The objective of BYU Athletics is to "build a distinctive, exceptional athletic program that is fully aligned with the mission and values of Brigham Young University and The Church of Jesus Christ of Latter-day Saints." And it's working.
In October 2019, BYU was one of only three schools with four different NCAA teams each ranked in the nation's top 10: women's soccer, number 4, women's volleyball, number 9, men's cross country, number 2, and women's cross country, number 2.
"Our success off the field is just as important as winning games or conference titles," Holmoe says. "Graduation, service, and developing life skills are priorities we pursue every day."
For example, last year BYU student-athletes connected with more than 10,000 elementary school students through the Cougar Strong program, just one of dozens of opportunities where they serve in addition to their classes and training.
"We want to be something unique and powerful," Holmoe says. "As part of a university that is equally unique and inspiring, our athletic department can change the lives of our student-athletes and everyone who comes into contact with them." With the support of thousands of donors, BYU student-athletes are serving, growing, and winning.