Students Build Home Sweet Green Home on Campus
October 2023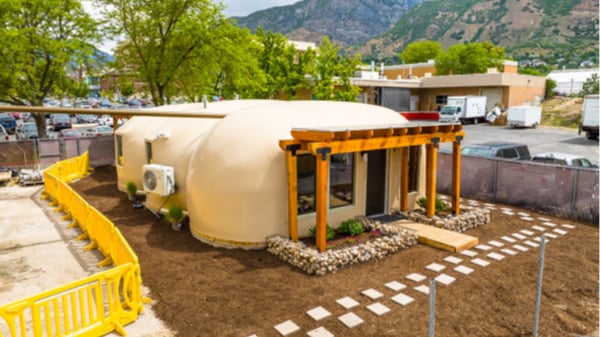 The Utah Valley Parade of Homes included an unconventional stop this year: BYU campus, just behind the Snell Building. Dubbed the Triple Dome Home, this student-built sustainable house comprises three connected concrete domes, and the two-bedroom, two-bathroom home welcomed visitors to campus during most of June.
Engineering students built the zero-energy, 850-square-foot house as part of the US Department of Energy's Solar Decathlon. BYU is one of 15 universities from the US, Canada, and India that competed in the decathlon. The BYU students set out to build a house with a smaller-than-expected carbon footprint, decreased water consumption, and temperature maintenance across winter and summer. "It's clear that no home like this is readily available in the market today," says student Ally Atchley.
More than 20 students were involved in design, engineering, and construction of the home. "This project at BYU has given us a lot of hands-on, real-life experience," says Andy Rodriguez, a civil engineering major who led the interior design. "Not just from the physical process of building a home but with the emotional element as well, putting our time and energy into building something together."
Distinctive engineering approaches of the Triple Dome Home include using fiberglass instead of rebar to reinforce the concrete structure; applying a PVC membrane to the entire exterior of the walls to create an insulating, water-proof envelope; and building a berm around the home with soil, rocks, and plants to insulate lower portions of the exterior walls. The home's triple-paned windows also increase its energy efficiency.
Because of its concrete dome structure, the home is windproof and fireproof. It is also energy neutral, fully powered by 34 double-sided solar panels on the home's carport and pergola.
Another unique feature is that the Triple Dome Home can be taken anywhere a crane can be placed. In fact, its next destination is California, where it is in the Orange County Sustainability Decathlon.