Bringing it Home
June 2022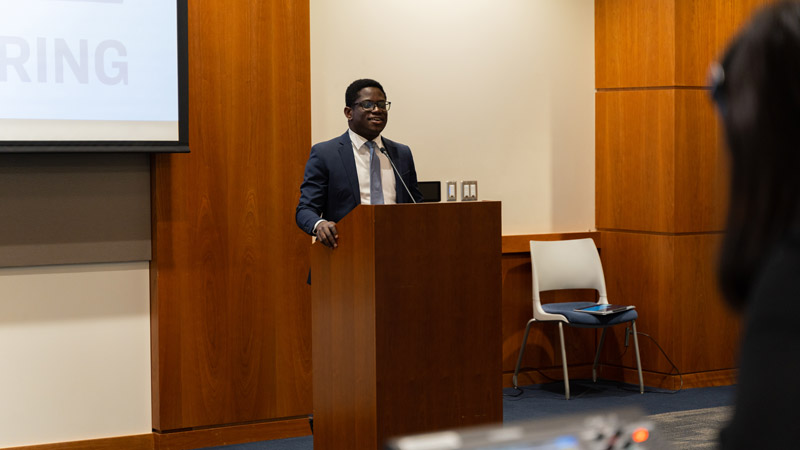 Daniel never thought he'd leave Ghana for BYU, but when he did, it changed everything.
Growing up in Tema, Ghana, on the coast of the Gulf of Guinea, Daniel Yirenya-Tawiah and his family would often experience power outages. Daniel attended school within eyeshot of the local hydroelectric dam, and that spurred his interest in the system that brought electricity to the homes in his town.
When he entered the University of Ghana to study electrical engineering, Daniel was frustrated to discover that the textbooks and materials were often outdated and lacked the information he needed to succeed. "I reached out to my father, and he said, 'Why don't you think about BYU?'" Daniel remembers. "I had never thought about leaving Ghana, but after talking with my parents, we decided it was worth a shot."
He took the SAT, applied, and was accepted. But traveling to Provo to attend school would come at a great cost to his family. His parents, who were also supporting Daniel's two sisters and even some of his cousins, paused construction on their home—a project they'd been working on their entire marriage. And with that, Daniel left for the United States.
"I knew the classes would be rigorous, which they are, but I had no way of truly anticipating the feeling of culture shock," he says. "Suddenly, I looked different and talked different from everyone around me. I didn't understand the lingo, and I wondered if I would ever fit in. But once I got into my engineering classes and started working on projects with classmates, all of that melted away."
Daniel served a two-year mission to Philadelphia not long after beginning his studies. He later did undergraduate research under Dr. Ryan Camacho and then under Dr. Wood Chiang, and his classmates began to feel more like family. One even invited him home for Christmas with his family in Idaho.
"We all have the common goal of mastering the subject matter and applying the things we are learning," he says. "Our differences help provide new perspective, new perspective helps solve problems, and solving problems is what engineers love to do."
After his freshman year, Daniel qualified for an academic scholarship, which he says "lifted an enormous burden" off his family just at a time when his mother began struggling with her health. "Not having to come up with tuition," he says, "took away a major concern."
Later, his twin sister, Abena, and younger sister, Nana, both transferred to join him at BYU. Nana is even studying engineering as well, albeit chemical rather than electrical. Daniel graduates in the spring of 2022, and he is now looking at graduate school before returning to Ghana to share what he's learned back home.
"I have seen the hand of God in my life and throughout my BYU experience," he says. "I know the Lord loves effort, as President [Russell M.] Nelson says, and my family and I have put in a great deal of effort. But His blessings have come in ways I could not have imagined."