A Wonderful Inspiring Learning Adventure
March 2020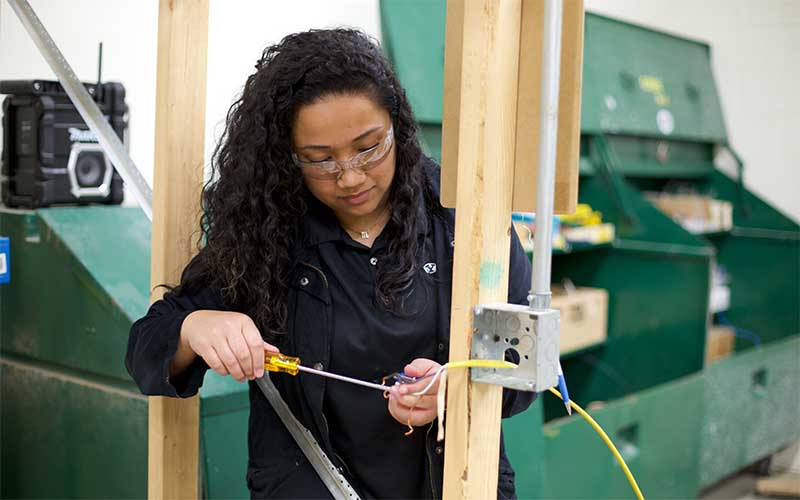 Construction management major Mikayah Siufanua works on wiring a frame wall in the electrical lab at BYU.
Mikayah Siufanua comes from a long line of builders. A second-generation Samoan American, she listened to family stories told by her grandfather before he died and decided to follow the family tradition.
That decision has led her on a great adventure at BYU. She traveled to Peru on a study abroad program, where she taught villagers to make soap and slept on a floating hut island community at Lake Titicaca. She helped her construction team win second place in the NAHB national construction competition in Las Vegas, and soon she will travel on scholarship to the Dominican Republic to visit construction projects and present risk management information to students and professors at the Santo Domingo Institute of Technology.
She is very grateful to donors who helped make it all possible. Coming from a family of seven, she has worked hard to pay her own way through school. A timely scholarship was a big help.
"I don't like to ask for money from my family if I can help it," she says. "I've been blessed to have a lot of my school expenses covered by scholarships."
Mikayah didn't have the funds for that study abroad, but with the help of donors, she was able to go.
While in Peru, Siufanua taught villagers to make soap in the tiny village of Porcon. The goal of the project was to help the village be more self-sufficient.
"I'll be the first one graduating from college in my family. I was very lucky to get help when I needed it."
"I was responsible for teaching five women," she says. "I really loved the women. Some traveled a long distance from the other side of the mountain every day to make soap. It was a way for them to have a livelihood."
Having previously served a mission to Mexico turned out to be a blessing.
"In Peru, I was the only Spanish-speaking person on the team. I was definitely in survival mode, but it really helped to be able to communicate," Siufanua says.
Her experience visiting the high altitude at Lake Titicaca left a big impression on her. The village is a floating island of reeds. Siufanua slept there one cold night and grew to love her host family.
"Their son was only 12 years old, but already he could shoot a duck with a slingshot from pretty far away," she says. "The family didn't have a lot, but they were very happy. That impressed me."
Although Siufanua's family had built many buildings in American Samoa—including the mission home—none of them had ever attended college.
"They were all self-taught," she recalls. She decided to start a new tradition by being the first to graduate from school.
"I looked into a couple of majors to see what would lead to building. I felt very blessed to learn about Construction Management at BYU. I knew that was what I wanted."
Siufanua is going to the Dominican Republic later this year with the construction management team. A total of six students were chosen to make a presentation on risk management at the Santo Domingo Institute of Technology. The team will also visit construction projects.
Siufanua knows she needs more experience in construction. "I have an internship coming up this year.  I'm pretty excited for that."
After graduation in December of 2020 she is considering an MBA or law degree. "Maybe both. I don't want to limit myself," she adds.
"I'll be the first one graduating from college in my family. I was very lucky to get help when I needed it."