Starting Over in a New County
July 2023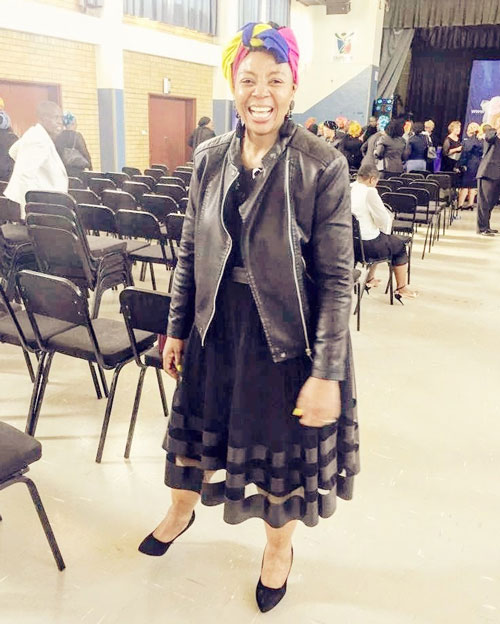 I pointed to the sky, at God, and said, 'You!' with the biggest smile on my face," said Lydia "Baby" Mmbola, an Ensign College student studying communications, after learning she was awarded the Stella Harris Oaks Single Parent Scholarship. A few months earlier, Mmbola had asked God to transform her life, and this scholarship proved that He was doing just that.
Mmbola was born and raised in South Africa. As a social worker, she helped with police investigations in Johannesburg and felt inspired to find out more about her own family. She says, "I didn't know who my father was, so, using my investigation skills, I looked for him, found who he was, and learned he had passed away." It was a difficult time in Mmbola's life, as she faced the news of her father's death while she was going through a divorce and caring for her two children. She began praying to God to transform her life and committed to do anything He asked.
In her search for family members, Mmbola had discovered that she had a sister living in Utah, and this sister, who she did not know well at the time, invited Mmbola to move in with her. Mmbola saw her sister's invitation as a prompting from God and started preparing to move. "My sister did not believe I would actually say yes to her invitation! But I left my job and I sold our house, my car, everything! I acted on faith throughout this whole process. Everything went smoothly, and I took it as a sign from God."
After moving to Utah, Mmbola began attending The Church of Jesus Christ of Latter-Day Saints with her sister, who was a member. "I thought the members were faking how happy they were!" she recalls. "But it wasn't a one-day thing. I saw how members found peace and I wanted a piece of their peace." Mmbola was baptized and continued to reset her life by applying to Ensign College. She plans to combine her background in social work with what she is learning about digital media to help youth struggling with mental health. "I want to help people better tend to their mind, body, and soul in an effective way," she says.
Ensign College has been an important steppingstone for her as she works toward her future career and continues to learn about gospel principles. "Ensign has taught me about deep learning with God and making sure my education is transformative," Mmbola says.
Mmbola is grateful for her donor-sponsored scholarship. She says, "I uprooted my entire life and went to another country. There are things I still need to learn and do, but it is a relief to not worry about tuition and to focus on taking care of my children." She continues, "I already know I will find success when I graduate, thanks to Ensign College and the path I am on. Whatever I thought I lost by leaving my home country, I know there are even greater things in store for me."