Bravely Starting Anew
April 2022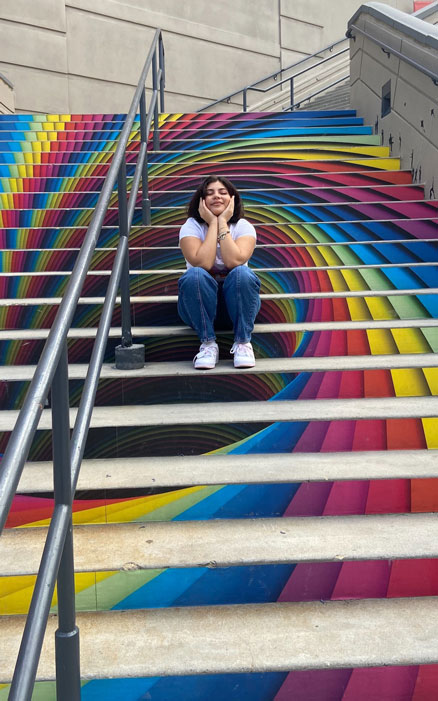 "It feels like an entire life has happened since I lived in my home country. Everything is so different for me now," says Genesis Martinez, a business intelligence student from El Salvador. In addition to her studies, Genesis works as a research assistant for the data analysis department at Ensign College. Thanks to the gospel and the scholarships she has received, she feels she has "a chance to have a new start here, with new places, new opportunities, and new people."
When Genesis came to the United States to learn English, she never imagined how much her life would change. She moved in with family friends and began attending church with them. After some time, she decided to become a member of The Church of Jesus Christ of Latter-day Saints.
While attending her classes to learn English, Genesis heard her peers discussing plans to attend college. Inspired, she applied to Ensign College and was accepted. At Ensign College, Genesis loved having a chance to explore different majors: "I studied computer science but only really liked learning about SQL [a programming language]. I looked at other degrees that used SQL and found the right fit with business intelligence."
After Genesis switched her major, she began to picture a future career she had never previously seen for herself. "I've learned a lot since coming to school and have surprisingly become interested in an area I didn't know I would like," she says. "Because of the passion and professionalism of the teachers at Ensign, I decided I wanted to follow a similar career path as my teachers. They have carried me through classes and given me opportunities to try things out for myself."
Genesis is also grateful for the scholarship that has helped support her education. She says, "I received a scholarship that has been a blessing to me and my family. My parents are especially grateful to be able to save money towards my sister attending college soon. In El Salvador, my parents and many others struggle with income. However, my parents want me to get a good education and live a better life than they had. Something like a donation might seem small, but it can actually change many lives in a big way."
From leaving home to gaining a testimony of the restored gospel, picking a major, and getting work experience, Genesis has seen changes in her life and within herself. She now has more opportunities, hope, and excitement for her future.