Welcome Back
January 2022
BYU Broadcasting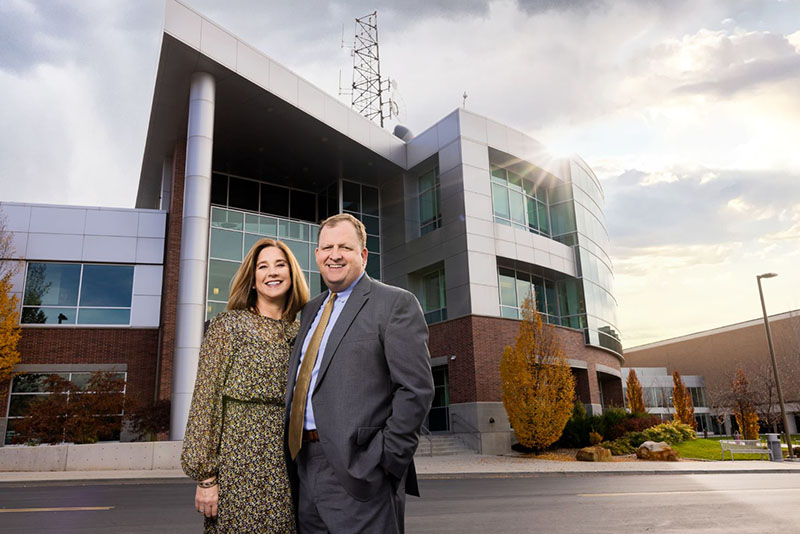 Karen and Jeff Simpson weren't planning to come to Provo, but when President Russell M. Nelson invited Jeff to serve as managing director of BYU Broadcasting, their plans changed. Jeff's 30-plus years in the media and entertainment industries prepared him for this unexpected role.
Alum Jeff Simpson, new managing director, is ready to serve.
Jeff and Karen Simpson spent the first half of 2021 praying, preparing, and packing. Called to preside over the Washington Yakima Mission, the Simpsons were ready and eager for the newest chapter in their lives, which was to begin in July.
Then, shortly before they were to leave for their mission, President Russell M. Nelson asked the couple a surprising new question: would the Simpsons be willing to take on a different assignment, with Jeff serving as managing director of BYU Broadcasting, effective immediately?
"It was clearly a request, but it also felt like getting another mission call," says Simpson.
Though the invitation caught the Simpsons by surprise, Jeff's 30-plus years of experience in media and entertainment had prepared him for this moment.
After graduating from BYU in 1988, Simpson began his career at Walt Disney Studios and Buena Vista Television. In 1994, he began growing his own media company, Excel Entertainment, which distributed such notable films as The Other Side of Heaven and Saints and Soldiers.
From there, Simpson took on numerous leadership roles within Deseret Management Corporation, including overseeing Bonneville International, with radio and television operations across the West, and most recently serving as president and publisher of Deseret News as well as president of Deseret Book.
Building Togetherness
"I love the point where art and audience meet," says Simpson. "Having both owned and operated companies has helped me understand how important it is to create a thread that connects audiences with creators, stakeholders, and shareholders. That's the job of a chief executive: creating that alignment all the way from the board room to the consumer."
Simpson sees BYU Broadcasting as a media organization that provides audiences something more than just clean, family-friendly entertainment. Content produced, broadcast, or streamed by BYU Broadcasting must build faith and strengthen values.
"In our media-saturated world today, we have to raise our flag higher and be the city on the hill that shines brighter," says Simpson. "We ask, 'What is our unique contribution to people's lives? What can we do that no one else can do?'"
Shows like The Wizard of Paws demonstrate the value and meaning of every life as animals of all shapes and sizes are fitted with custom-made prosthetics. About longtime favorite Relative Race, now in its eighth season, Simpson says, "It uncovers stories that include divine values and virtues that make those stories come to life."
Even shows like 9 Years to Neptune, a new comedy about a mismatched group of astronauts traveling through outer space, incorporates such values as honesty, patience, trust, and teamwork—there's a lesson in every episode.
From Sunday programs like Grace Notes and Family Rules! to scripted fare such as Malory Towers and the upcoming Ruby and the Well, BYUtv provides inspiring and entertaining content that brings viewers together and encourages them to find faith and meaning in life. To accomplish this noble endeavor, BYU Broadcasting partners with production companies from around the globe.
"That's what's great about BYU Broadcasting—there's already a ton of alignment and motivation to really do something special," says Simpson. Simpson feels that, in addition to providing uplifting content, BYU Broadcasting has a vital role within the university. Students employed at BYUtv and BYUradio make up roughly two-thirds of BYU Broadcasting's total work force. Training the next generation of broadcasters "will help salt the industry with folks who can produce inspiring media that improves lives."
In a sense, Simpson's current appointment isn't too far removed from the work he was going to do as a mission president. "We want to help people understand the role of God in their lives," he says, "not just on Sunday, but also Monday through Saturday."