Using Math to Connect Students to Resources
January 2021
College of Physical and Mathematical Sciences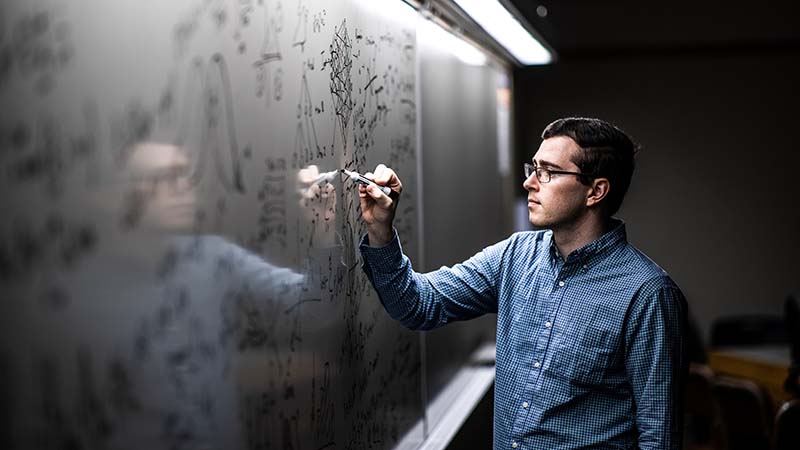 Photo credit: BYU Photo/Tyler Richardson. Math major Eric Todd worked as an intern on the team that developed Early Alert, a program from the Enrollment Services Office that connects struggling students with campus resources.
With more than 30,000 students at BYU, it's not surprising that some of them don't know where to turn when difficulties arise. That's where Early Alert comes in. It is a student-developed program run by the Enrollment Services Division that connects struggling students with campus resources to help them succeed.
Student Eric Todd, a math major, worked as an intern on the team that developed the program. "My internship let me see that what I am learning in my classes is useful," he says. "I am grateful for the donors whose support allowed me to be at BYU."
Todd and his teammates used predictive modeling to identify students who are at risk of having a GPA lower than 2.0 at the end of the semester.
Solving the Problem
The Early Alert program uses 250 risk factors to find struggling students. Factors include how many rigorous classes a student is taking in a semester, whether the student is employed, how often the student checks assignment lists online, whether she or he has attended help sessions, and the student's year in school.
Once an at-risk student is identified, the program generates an email with information about campus resources, such as college academic advisors, counseling services, financial aid, housing, and tech support. An Early Alert advisor then contacts the student, offering personalized guidance. The goal of the program is to connect students with resources early enough so that they have time to improve their grades.
One first-generation BYU student fell behind in his classes because he was working 60-hour weeks across two jobs to pay tuition and was writing his papers on his phone since he didn't have a computer. The Early Alert analysis indicated that despite this student's hard work, he was at risk. Because of the email this student got from the Early Alert program, he met with an academic advisor and found out that he qualified for financial aid. He was then able to reduce his on-the-job time to 20 hours per week. He also learned about help for students who can't afford essential materials, including computers.
The additional resources and time have been very helpful for this at-risk student. He has since chosen a demanding major and remains in good academic standing.
Meanwhile, Todd is pursuing a master's degree at BYU and is grateful to have worked on Early Alert. "It was great to be part of something so meaningful," he says. "Thank you to my professors and the donors who gave me amazing opportunities like this to learn by doing."