Scholarship Was an Answer to Prayer
December 2022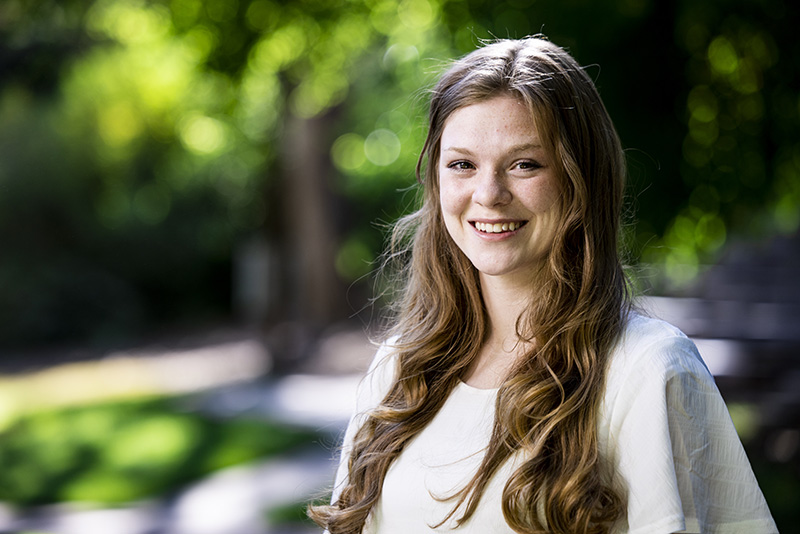 Hayley Whitlock was happily pursuing her dream of studying international relations and Russian at BYU when she experienced a sudden seizure that threatened to derail her plans.
Recovering from the seizure turned out to be challenging physically and mentally, especially for someone learning a foreign language.
"I had memory loss," says Hayley, who had planned to minor in Russian. "I had to relearn an entire semester of beginning-level Russian because I had lost it completely. That was tricky. I had forgotten people and professors as well."
Perhaps no one would have blamed Hayley if she had simply quit and moved on to less-demanding pursuits. Nevertheless, she was determined to continue. Even still, there was another problem.
Hayley remembers one particularly difficult semester when she didn't have enough money. "I could no longer afford the housing I was in because I was too sick to work my job," she explains. To make matters worse, she also couldn't afford the down payment to get into a cheaper apartment—or the fee she would have to pay to get out of her current contract. It looked to Hayley like there would be no way to continue her studies into the next semester. She turned to prayer.
It was then that, out of the blue, she received an additional $1,400 in scholarship money that she had not expected.
"It was a 100 percent miracle," she says, voice cracking as she recalls the emotion of the moment. "On the spiritual side, it was one of the most solid blessings I ever had. It strengthened my testimony of the fact that God will be there."
"It was a 100 percent miracle."
That scholarship was just one example of how donors blessed Hayley in her resolute pursuit of her goals. After recovering from her illness, Hayley went on to work for paid research positions with two different professors. She also became the managing editor for Sigma (the political science and international studies journal at BYU), completed a study abroad to Russia (which enabled her to minor in Russian), and traveled to New York as part of the Model United Nations team—all donor-funded activities. She also received a scholarship for students who experience seizures.
Hayley still has to deal with her illness, but she says she is "managing very well."
"When I say that scholarships made it possible for me to continue school, I mean that literally," says Hayley. "That's how I was able to pay for my schooling. I have had some amazing experiences, many of which were partly or entirely funded by donors."
She adds, "I don't know the names of the donors who made these things possible, but I have learned so much from their example. It showed me that even if I can't do a lot, if I can only do a little to help someone in need, I'm all in."
With school behind her, Hayley is taking on new challenges: marriage and a career. She is now working in the global markets division at Goldman Sachs as an analyst.
"I never would have thought that I could qualify for this kind of work," she says. "I'm grateful to those who helped make it happen!"