Making a Statement
September 2020
Sprinter Haley Rogers is leaving her mark on and off the track at BYU.
If you saw BYU Track and Field's Haley Rogers compete in Provo, you know she looks right at home on the blue surface of the Robison Track. Racing in front of the hometown crowd in 2018, she took third in the 200-meter and then came up just six hundredths of a second short of first in the 100-meter dash. Though she's a true-blue Cougar today, Haley freely admits that if you'd asked her about BYU just five years ago, she would've responded, "What's BYU?"
Back then, she was a track standout at a suburban high school in Denver. She'd followed her older sister onto the track team and made varsity as a freshman. But one day in her sophomore year, her life took a turn when her father passed away unexpectedly following a surgery.
"My dad was always strong for us, and he was never sick," she says. "I always thought he'd be at my wedding and be a part of my life for a long time."
She became the main care provider for her mother, who'd been diagnosed with cancer when Haley was just three and had been paralyzed for years. Through it all, track provided the friendships and stability Haley needed.
"I learned a lot of life lessons through track," she says. "I had a coach in high school who really taught me what I needed to know. Track taught me how to push through pain."
At the state championships, Haley's coach introduced her to Stephani Perkins, BYU's sprints and jumps coach who is also a native of Denver. Just two weeks after her mother passed away, Haley made an official visit to Provo and soon after decided to run for BYU.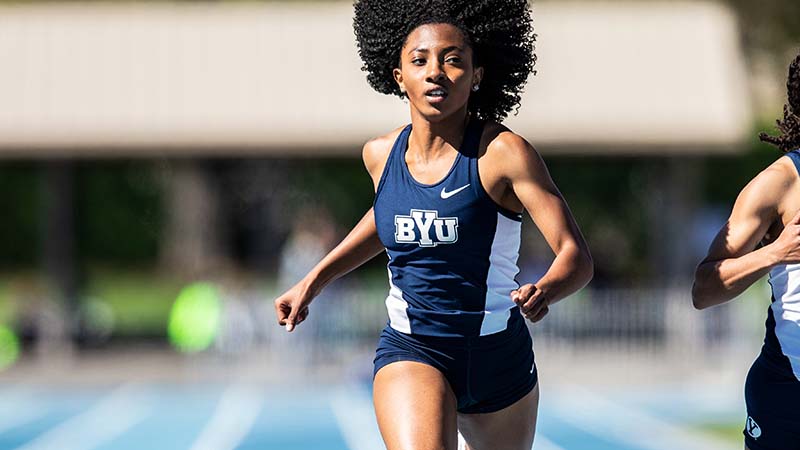 Not being a member of The Church of Jesus Christ of Latter-day Saints, Haley felt like an outsider at first. Even now, she sometimes hears terminology or movie references that don't make sense, and her social life is often quieter than she would prefer. But she's also doing better than ever academically and, paradoxically, she's even growing in her own Baptist faith.
"I came here, and it was definitely heaven-sent," she says. "I felt like it drew me closer to God because I had to figure out what I believe. I read the Bible more, and because of that, I've been able to find God's voice and hear Him speak to me."
She's also finding opportunities to make a difference. After Haley attended a Cougar Strong event for special needs adults, BYU senior associate athletic director Liz Darger invited her to speak at the NCAA Common Ground summit, which BYU hosted this past year, and to organize a student-athlete activity that highlighted similarities and differences. Haley also became involved in the Student- Athlete Academic Council and a group on campus called Perspective Education Narratives that highlights diversity.
After graduating in 2020, Haley's hoping to pursue a career in sports marketing or hospitality management. No matter where she goes, she'll take her BYU experience with her—and her gratitude for the donors who made it possible.
"Thank heaven for the donors who funded my scholarship," she says. "Whoever they are, and I wish I could put a face to them, I just want to say thank you for all that they do."