Going Forth to Serve: A Greek Odyssey
December 2022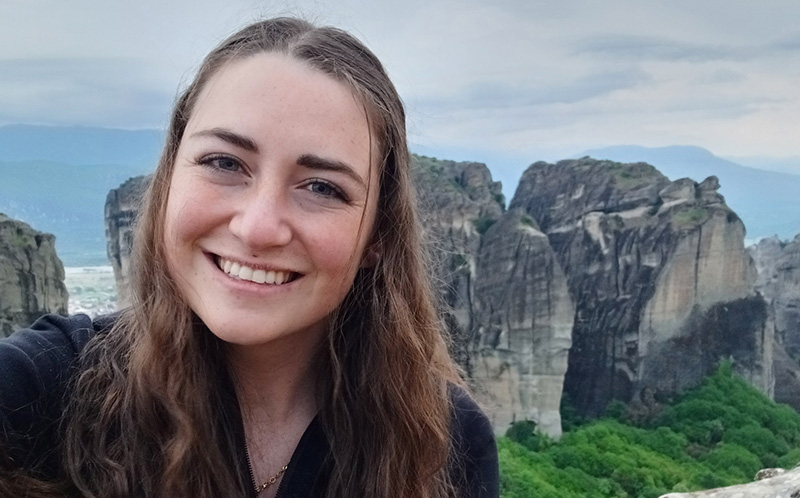 Savannah Bullock was miles away from her home in Washington State attending an EFY event on the BYU campus in Provo when she suddenly experienced a severe headache. Little did she know that this headache would lead her back to BYU to pursue a career in medicine.
"I must be having a migraine," Savannah told herself at the time. EFY was wrapping up, so she packed her bags and headed home. Her mother, a nurse, kept a close eye on her over the weekend and realized there was something unusual about the headaches.
"I became disoriented," Savannah recalls. Her mother rushed her to the ER, where they discovered bleeding in the brain, caused by an arteriovenous malformation. She was life-flighted to Seattle, where medical personnel were able to treat the condition. The symptoms, however, had been severe, and Savannah had to relearn how to speak. It was this interaction with speech therapists that sparked her interest in her field, particularly the medical side of speech pathology.
Speech pathologists can help people across a wide spectrum of issues—from helping children learn to say the letter r or speak without stuttering, to helping stroke victims recover speech capability. Savannah developed a desire to help people regain important life skills just as people helped her during her health crisis.
Eventually Savannah fully regained her ability to speak. She attended BYU and was helped along the way by donor-funded scholarships. She studied in the McKay School of Education communication disorders program, and after taking time off to serve a mission in New Hampshire—and getting married—she graduated in April 2022.
"Graduating without student debt looming over my head is an amazing feeling."
Donors also helped Savannah fund her study abroad as part of her medical training. Her group traveled to the Greek island of Ikaria, where they researched the Mediterranean diet in an attempt to discover how and why the people there live longer and stay healthier.
"At BYU we say, 'The world is our campus.' I always wanted to go somewhere and study abroad, but I always had to weigh the cost, knowing that I wanted to pursue graduate school—which can be more expensive than undergraduate studies," she explains.
"In Greece we spent time with the people, cooking and eating and learning their culture and lifestyle. It opened my eyes and helped me to learn to embrace the beauty, uniqueness, and value in cultural differences. For me, it was life changing. I'm so grateful to the donors who made it possible."
Savannah is married to Jake Bullock, who was her first date when she turned 16. Years later the two reconnected at a tennis match between their two schools. Jake is now pursuing a degree at Utah Valley University with plans to join the nursing program there.