A Goal to Teach Math
December 2022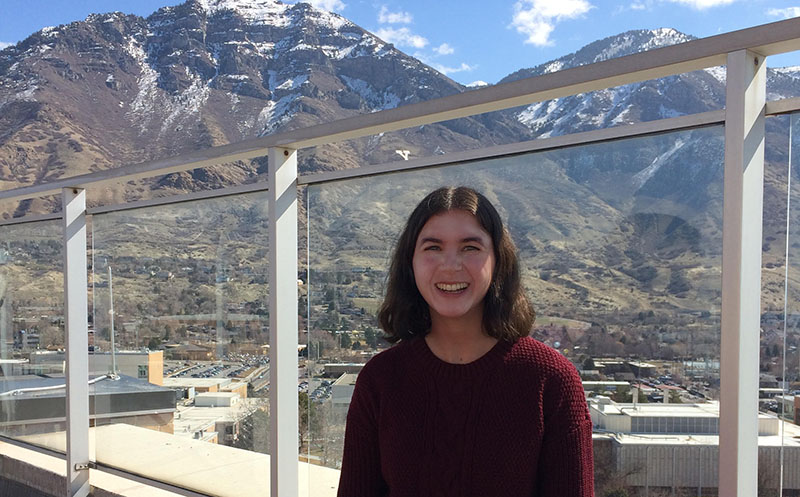 Morgan Petersen had worked hard to keep her grades up as she entered her fourth year of college at BYU. When an expected scholarship didn't come through, the pressure was on to find another way to finance her education.
"It was distressing," Morgan says. "I wasn't sure what to do. I would have to work another job or go to my parents for more help."
Growing up as the eldest of five children in Denver, Colorado, Morgan felt the need to contribute as much as she could to pay for college. Along with part-time jobs, scholarships were an important part of the plan.
Help came just in time: Morgan was granted a donor-funded scholarship from the BYU McKay School of Education.
"It was completely unexpected and really took the pressure off for my senior year," says Morgan, who graduated with a degree in math education in 2022.
"I am grateful beyond words for my BYU education, and I am immensely touched by the generosity of people who have donated to enable me to pay for it. Thank you so much!"
Morgan's decision to become a teacher was influenced by her teachers in middle school. Morgan loved math but couldn't envision a career in math that would suit her. One economics teacher, who was very proactive in encouraging his students to consider a career in teaching, went so far as to pull up the salary schedules for teachers in Colorado. Morgan not only decided to become a teacher but also set a goal to teach math in her hometown.
Because her grades were high, Morgan briefly thought she might study at an Ivy League college. When the time came to choose a university, however, she reached a different conclusion.
"I looked at my life goals, and they were all about family," she explains. "I realized that BYU was a good choice because they are strong academically and match my values really well. Also, I wanted to serve a mission, and I knew BYU would make the deferment easier."
Morgan recently accepted a position to teach math in the Denver area.
She says, "I appreciate the donors who helped me to achieve my goals."