Five Years of Inspiring Learning
January 2022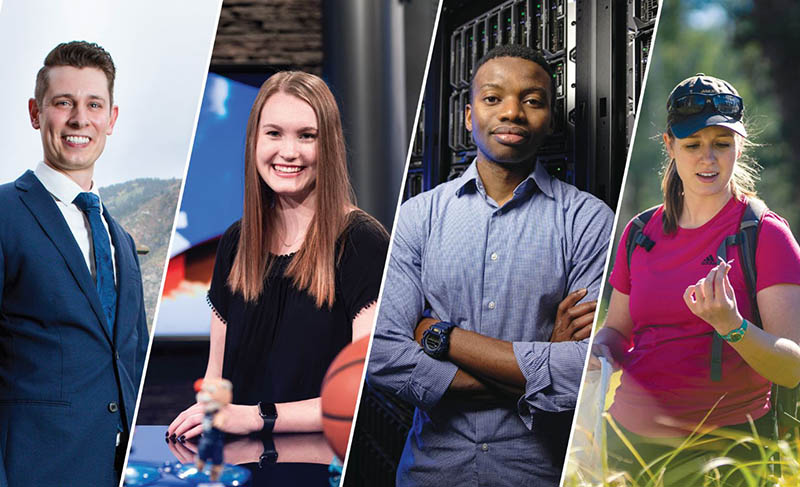 President Kevin J Worthen introduced the Inspiring Learning Initiative in 2016. Since then, thousands of students like (left to right) Alex Williams, Emme Franks, Daniel Ekpo, and Alyssa Pike have had enhanced learning opportunities. To date, more than 26,000 inspiring learning experiences have been funded by alumni and friends of BYU. (Photo courtesy Alex Williams, Emme Franks, Daniel Ekpo, and Alyssa Pike).
Fifty-three hundred miles from Brigham Young University's Provo campus, Brooke Spencer was on the island of Samoa with a group of fellow students raising awareness of, testing for, and treating rheumatic heart disease.
"It was there I developed a greater understanding that 'Enter to learn; go forth to serve' is more than just words," she says. "You can only learn so much just going to classes and working, but when I was in Samoa, it all came to life."
It's been five years since President Kevin J Worthen announced the Inspiring Learning Initiative, and already, the seeds planted then are bearing fruit. Today Spencer has graduated and is professionally doing the same sort of work she did as a student while in Samoa.
"I found a passion for health education," she says. "I saw what a difference it made in the lives of the people of Samoa. I now spend my time working as a health educator for the Salt Lake County Health Department and caring for my one-year-old daughter."
A Summation of Goals
At university conference in 2016, President Worthen said: "I hope we inspire our students to learn, and I hope that learning leads to inspiration. When both things happen, inspiring learning occurs, and then we can know we are on the right track to achieve the core goals set forth in our mission statement."
Inspiring learning is more than a program or higher-education jargon. It's a synthesis of the university's mission and a summation of the goals of a BYU education. It goes beyond preparing students for exams, academics, and careers. It aims to prepare them for eternity.
"For us there is a deeper, even doctrinal reason for pursuing learning by experience in a systemic way," President Worthen said. "We could not have simply memorized celestial laws in our premortal life and declared ourselves fit for the celestial kingdom. We needed to come to this mortal existence to experience certain things that we could not experience in our premortal life and learn from those experiences. Experience is a key part of our mortal learning process."
Donors have been integral to the success of inspiring learning. What started with a few donations in 2016 has become a $78 million endowment that President Worthen hopes will reach $120 million before long. In the 2020–2021 academic year, even with the uncertainties and disruptions of an ongoing pandemic, more than 6,800 BYU students enjoyed experiential and mentored learning opportunities.
Experience is a key part of our mortal learning process. —President Kevin J Worthen
Real-World Experiences
Some inspiring learning experiences take students off campus, and others bring the experiences to Provo. The award-winning AdLab for advertising students at the College of Fine Arts and Communications, for example, allows students to create professional-level advertising media for real companies.
Pat Doyle, one of the AdLab professors, says, "We are always challenging the students to push and to grow and to do the best they can. I'm most proud of my students when I see them start to come into their own. When they catch that vision and see what they can do and what they can become, it's pretty special."
Ranked the number one advertising school by the One Club for Creativity, a nonprofit that supports and celebrates the global creative community, the AdLab has produced media for brands like The North Face, Ford, Bose, Husqvarna, Subway, Puma, and others.
Recent grad Mikey Bready says the AdLab empowered her. "It felt like they really wanted to help me as a person be better not only at school but in my career and in my personal life. I could not be more grateful for the experience I had."
The BYU Marriott School of Business adopted its own three-word simplification of inspiring learning—"learn, do, become"—which was especially meaningful for a group of supply chain MBA students. They participated in what's called the Savage Scholars program (funded by Savage Services, which specializes in transportation and logistics). As part of that program, students apply their classroom knowledge to real-world consulting projects.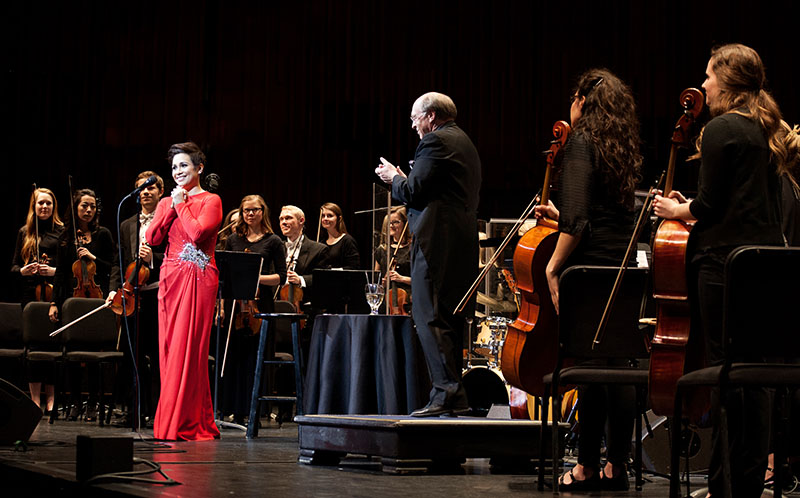 "Recording the album with Lea Salonga was one of the most amazing experiences of my life," says student Melinda Pehrson. The album won a prestigious BroadwayWorld award in 2020. See more at
behindthestories.byu.edu
.
Last year's Savage Scholars student president, Alex Williams, recent MBA graduate, was part of six different supply chain challenges.
"Before the program, I had negligible professional supply chain experience. I did not know how to put an ABC analysis into practice, how to derive inventory entitlement, or how to go about choosing a new plant location," said Williams. "Savage Scholars gave me real experience and helped me pivot into supply chain and land a full-time job at Honeywell."
At BYU Broadcasting, where student employees outnumber full-timers three to one, Emme Franks took a part-time job in the sports department when she was still unsure about her major. After starting as a production assistant, she worked into a full-fledged (but still part-time) role as a producer on BYU Sports Nation and BYU Basketball with Mark Pope. She selected communications for her major and hasn't looked back since.
"This has altered the course of my life forever," says Franks, who is a senior. "I've gained a lot of real-world, practical experience. I've only gone to BYU, but I don't know if there's another school where you can get this kind of experience as a student."
The BYU Chamber Orchestra performed with Lea Salonga in Manila for a BYU Records album, The Story of My Life: Lea Salonga Live from Manila. The album won a 2020 BroadwayWorld award for best new EP/solo release. BroadwayWorld is a respected theater news website that covers all things Broadway.
BYU professor Kory Katseanes, who conducted the performance, says this isn't a college award. "It's an award for professionally produced albums on Broadway. It's unbelievable—but not undeserved—that BYU won."
While awards are memorable and draw attention to the program, students' experiences give them a significant leg up. Emily Robinson, a music student who participated in the recording, thinks it's great that BYU gives students amazing opportunities. "I learned from playing with a world-class musician that hard work combined with persistence and a love for what you're doing will help you to develop real talent."
For College of Life Sciences student Alyssa Pike, her inspiring learning moment came miles from Provo's campus when, with a swish of her insect net, she nabbed dragonfly specimens with Professor Seth Bybee. Bybee and other BYU biologists and students have been studying dragonflies for nearly ten years. Today's team is piecing together the first-ever phylogenetic tree of all 6,300 dragonfly species around the world.
"Field research and being involved in mentored research has had a tremendous impact on my life," Pike says.
Endless Examples
The stories can—and will—go on and on.
The thousands of students who participate in inspiring learning experiences each year—as researchers, interns, and field studies contributors—are better prepared for family life, employment, civic duty, and service to humanity.
In his landmark 1975 address "The Second Century of Brigham Young University," President Spencer W. Kimball said:
We must be certain that the lessons are not only taught but are also absorbed and learned. . . . Learning that includes familiarization with facts must not occur in isolation from concern over our fellowmen. It must occur in the context of a commitment to serve them and to reach out to them.
One student at a time, inspiring learning is preparing leaders who will improve the world. And as inspiring learning continues to grow, donations and generosity are more crucial and more helpful than ever before.