Employee Scholarships a Pleasant Surprise for Mentored Students
January 2022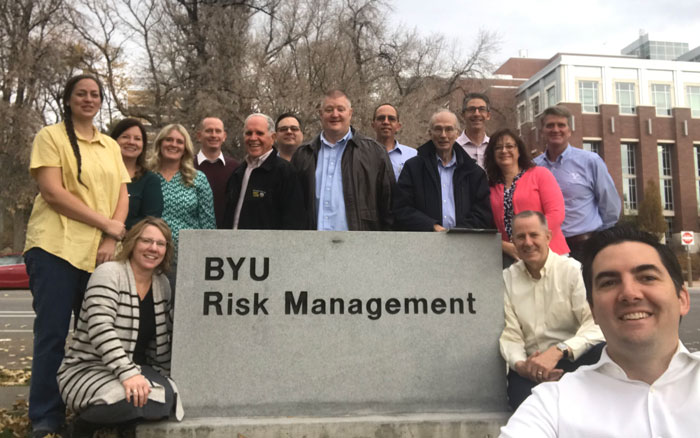 In 2008 a group of BYU Risk Management employees created a scholarship to show appreciation to valued student employees in their department. Each year they surprise the student when they present the scholarship at the staff Christmas party.
"It is really fun to see the looks on their faces. They don't expect it," says Tanya Nisse, who hires the department's students.
"I know these students by name," she says. "I interview them. These are top-notch students, and we give them meaningful projects. They do a lot of the legwork. The scholarship is a way to recognize those who contribute over and above."
At Risk Management, student employees play a key role in day-to-day operations. The scholarship usually goes to a senior who has made a significant contribution during their employment at Risk Management. One student, a computer science major, picked up a data project that had stalled due to the complexity of programming required to make it work. The student not only got it working but also created new interface elements that made it accessible to the staff.
"When I discovered this scholarship program, I realized this is a phenomenal way to contribute. When many people give a little, it goes a long way."

- Tanya Nisse
Supervisors nominate students, a committee reviews applications, and the managing director signs off on the scholarship. The transactions are handled by the scholarship office. The fund is replenished by donations from the employee giving campaign.
Although financial need is not part of the criteria, the money is often a timely help for the students. Some are moving on to graduate school; others need to quit work in order to focus on their studies. One student was struggling when her father's employment was impacted by the pandemic. The scholarship helped her to continue her studies and pursue her dream of working for a nonprofit organization.
Gratitude is abundant among the scholarship winners. Former recipients often drop in on the department to say hi and share what's going on in their lives. Their camaraderie transcends the workplace. "That's the fun part," says Nisse.
"When I discovered this scholarship program, I realized this is a phenomenal way to contribute," she says. "When many people give a little, it goes a long way."