College of Fine Arts and Communications Student News
May 2023
AdLab Creates Film for NBA All-Star Weekend
In February the basketball world came to Utah for the NBA All-Star Game, and the Utah Jazz organization selected BYU AdLab students to make a short film for the accompanying celebration. AdLab was the only student group to apply among a field of professionals, which made their selection even more notable.
The film is part of the NBA Films for Fans series that explores the league's influence across the globe. "We could have done a documentary-type film, but we wanted to do something different," says advertising student John Starkweather. Champagne Stain is about a lifelong Jazz fan who cherishes his vintage, stained Jazz T-shirt because of the memories it evokes.
Starkweather, who graduated in April, wrote the film. He credits the AdLab and his mentoring professors with preparing him for real-world opportunities. In addition to Starkweather, the AdLab students who created the film were Taylor Ballard (director), Tanner Jackson (photography director), and Morgan Capener (art director).
Animation Students Awarded Another Student Emmy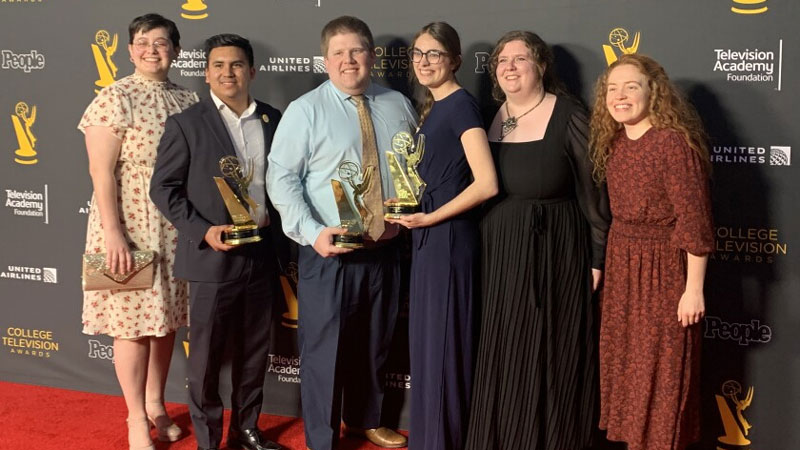 For the second year in a row, BYU students claimed the top spots for both animation and advertising at the Television Academy Foundation Student Emmys. This year's animated film, Cenote, is about a creature who is trapped in an underwater sinkhole and eventually returns to his family.
Dozens of students worked to bring the film to life. Animation students Andrew Pettit, Daniel Villanueva Avalos, and Samantha Barroso produced, directed, and wrote the film. "One thing that's really unique about the BYU animation program is the way the gospel is woven throughout it," says Barroso.
Pettit, Villanueva Avalos, and Barroso say that the formative experiences BYU animation provided them made winning the award possible—and are the reason that BYU animation is such a powerhouse. This is the 20th time since 2003 that a BYU animated film has been featured at the Student Emmys.
Dance Is an International Language
While studying abroad in Bengaluru, India, BYU dance student Lauren Halversen learned that dance connects diverse cultures and mindsets. Halversen was part of a group that researched how cross-cultural choreographic collaboration fosters empathy and understanding. For a two-week period, a BYU dancer was paired with an Indian dancer, and each choreographed a solo and taught it to their partner.
The solo Halversen learned was in a classical Indian style. Her partner from India learned a contemporary dance that Halversen had choreographed. There were moments when they felt resistance to each other's choreography because neither of them had had much experience in the other's style of dance. But as they worked together, they learned that choreography was a common language. "I saw more distinctly that the movements she created conjured up my own memories," says Halversen.