BYU Annual Giving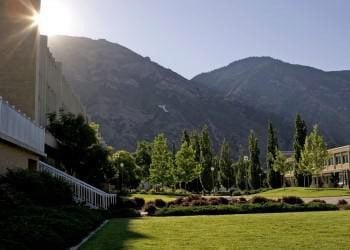 BYU Annual Giving provides an opportunity for alumni and friends of BYU to participate financially in helping strengthen BYU's role in the Kingdom of God. Your contributions to BYU Annual Giving allow leaders and administrators maximum flexibility to direct funds where the need is greatest. This not only provides for efficient funding of planned expenditures, but also allows for response to unforeseen challenges and opportunities that fall within the established priorities of the school.
The fund was established to facilitate regular giving by alumni and other friends of BYU, thus providing a reliable source of funding for approved priorities. Unless otherwise specified by you, the donor, Annual Giving disbursements are left to the discretion of the Board of Trustees and the President.
Make a Gift
Why It Is a Priority
BYU Annual Giving empowers university leaders to address priority issues and to react, in a timely way, to unforeseen challenges and opportunities. Students are the primary beneficiaries. There are three basic areas of focus in Annual Giving. Each of them significantly improve the student learning experience:
See Other Giving Opportunities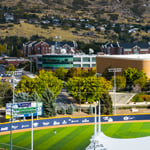 BYU Athletics and
BYU Broadcasting
BYU Athletics and BYU Broadcasting help connect fans and audiences around the world to the university.
Learn More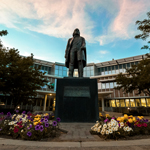 Other Approved
Priorities
From art to advocacy to literacy and more, you can help advance the mission of BYU and its students by donating.
Learn More
How Your Gift Helps
When you give to BYU Annual Giving in concert with others, students' lives are touched and doors and hearts are opened worldwide. Although some donors contribute large sums, most contribute modest amounts regularly, according to their means. The overall impact, however, is powerful.
Annual Giving is helping build a better BYU and blesses students in innumerable ways. For example, your gift to Annual Giving will allow BYU to use internet technology to offer online courses to 250,000 or more students around the world, expanding access to BYU education beyond the physical limitations of campus. This program will be available to Church members as well as anyone interested in enhancing employment opportunities through further education. The fund also allows BYU to invite up to 20,000 additional students to enjoy the BYU "on-campus" experience through the spring/summer enrollment program.
Annual Giving helps provide mentoring opportunities for undergraduates to work part-time assisting with major research and other projects related to their field of study, uniquely preparing them for future work and advanced studies. A comparatively large number of BYU undergraduates have actually published scholarly works. BYU has a reputation for placing highly qualified students into employment and into graduate programs after they complete their undergraduate work. Your support of BYU Annual Giving will help extend this type of learning experience to more and more students.
Make a Gift