Humanitarian Services
The Church of Jesus Christ of Latter-day Saints provides aid to people around the world without regard to cultural or religious affiliation. Key projects include:

$1.02 billion was expended to help those in need across the world.

174 refugee response projects and 11,030 welfare and self-reliance missionaries.

520 food security projects, 54 mobility projects, 156 clean water projects, 42 vision care projects, 45 maternal care projects, and 483 emergency response projects.

Volunteers contributed more than 6.3 million hours of service.

69,115 new JustServe users registered, and 16,285 new JustServe projects created.

439 education projects, 106,261 self-reliance course participants, 525 addiction recovery meetings per week, and 9,186 Deseret Industries associates served.
How We Operate
Two ideas are at the core of the Church's efforts to care for those in need:
100% of every dollar donated is used to help those in need—without regard to race, religion, or ethnic origin.
The Church's humanitarian efforts help people attain self-sufficiency so they can be self-reliant long after the humanitarian project ends.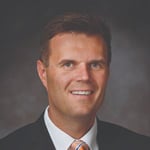 A Note from Blaine Maxfield
Managing Director, Welfare and Self-Reliance Services
As we reflect on the last few months, we recognize your generous contributions and efforts. It is because of you that we can care for those in need around the world and help them feel Christ's love. These past months have been filled with many challenges throughout the world, including rising food and fuel costs, natural disasters, and the ongoing crisis in Ukraine. We collaborated with other charitable organizations to provide displaced Ukrainians with shelter, medical supplies, hygiene kits, food, and other necessities. Through your efforts, these families and individuals have been reassured of God's love for them even in the midst of conflict.
Response to growing levels of hunger and malnutrition across the globe was a key priority for 2022. In addition to a $32 million contribution to the World Food Programme to help avert famine in critical regions of the world, funding was also provided to UNICEF, Save the Children, and other organizations to combat malnutrition among thousands of mothers and small children. Continued support was also provided to immunization efforts aimed at eliminating diseases such as polio and maternal and newborn tetanus.
In the United States, Canada, and the Caribbean, humanitarian efforts ranged from major disaster responses to smaller-scale community projects. Through the efforts of volunteers and humanitarian organizations, we provided emergency relief and clean-up following the devastation of Hurricanes Fiona and Ian. On the other side of the continent, your donations also helped a Navajo community in Utah to receive needed clean water and electricity to light their homes.
Because of your generous donations, we continue to serve our brothers and sisters in need and spread the work of compassion throughout the world, and for that we are incredibly grateful.