Humanitarian Services
The Church of Jesus Christ of Latter-day Saints provides aid to people around the world without regard to cultural or religious affiliation. Key projects include:

$1.02 billion was expended to help those in need across the world.

174 refugee response projects and 11,030 welfare and self-reliance missionaries.

520 food security projects, 54 mobility projects, 156 clean water projects, 42 vision care projects, 45 maternal care projects, and 483 emergency response projects.

Volunteers contributed more than 6.3 million hours of service.

69,115 new JustServe users registered, and 16,285 new JustServe projects created.

439 education projects, 106,261 self-reliance course participants, 525 addiction recovery meetings per week, and 9,186 Deseret Industries associates served.
How We Operate
Two ideas are at the core of the Church's efforts to care for those in need:
100% of every dollar donated is used to help those in need—without regard to race, religion, or ethnic origin.
The Church's humanitarian efforts help people attain self-sufficiency so they can be self-reliant long after the humanitarian project ends.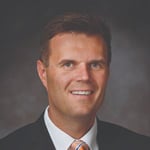 A Note from Blaine Maxfield
Managing Director, Welfare and Self-Reliance Services
As 2021 has progressed, people everywhere are seeking to manage the distress of COVID-19 in addition to many preexisting needs. Your support has allowed us to reach out, love our neighbors, and help fill these needs. Because of you, we've been able to give aid where it is needed. This includes funding to three schools to help 1,200 Syrian refugee children stay connected to their education and feel a sense of belonging. We also provided $5.8 million worth of critical oxygen to hospitals in the Amazon region and food to feed about 1 million Brazilians who were hit hard by a severe wave of COVID-19 and food shortages. Additionally, we were able to commit $20 million to the global COVAX initiative, which aims to deliver 2 billion doses of the COVID-19 vaccine to 196 countries. Your support not only allows us to respond to current emergencies but also helps us prepare for future disasters and needs. The Church's work of serving God's children everywhere could not happen without your generosity, compassion, and support. We are grateful for you, and we dedicate ourselves to continuing to provide help and relief to those around the world in need of clean water, food, medical care, disability support, and so much more. Thank you for your contributions and for your love and generosity toward your brothers and sisters around the globe.