President's Report: To Be Capable and Trusted Disciples

While I was living near Los Angeles in the 1960s and early 1970s, it was easy to be a fan of the UCLA Bruins basketball team and their coach, John Wooden. They were perennial champions. Not only was he a great coach, but Wooden was also known as a man of great character. He once said, "Be more concerned with your character than your reputation, because character is what you really are, while your reputation is merely what others think you are."
I am confident that your character has already been tested—and undoubtedly more than once. Tests of our character are intended to be an essential part of our mortal probation. It is how we become agents unto ourselves (see Doctrine and Covenants 29:39). The Savior's character was tested by Satan following 40 days of fasting as He began His mortal ministry.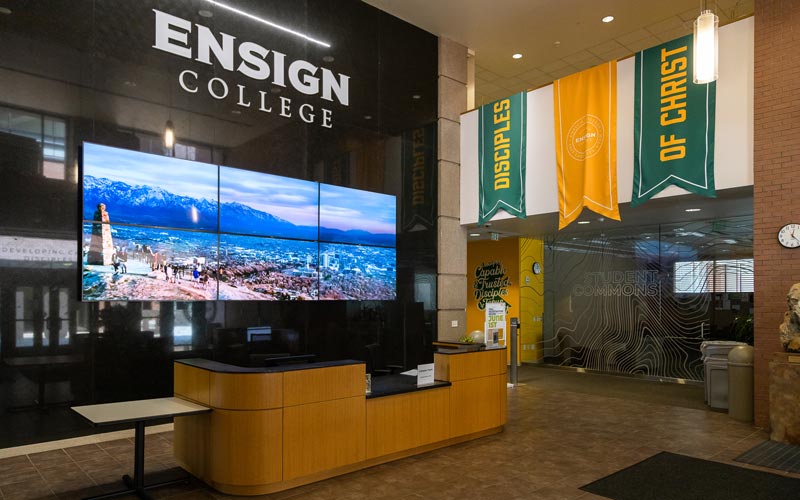 We see examples every day of those who put personal gain over character with the sole purpose of getting an advantage over others. In the future, you may feel pressure to do the same—because it may seem to be the only option in a very competitive or desperate situation. Don't do it! The Lord loves people of high moral character.
The building of character is the very essence and purpose of education, and our work, at Ensign College.
President Russell M. Nelson said: "Students at Ensign College will strive for more than training. With hope in their hearts, students here should have a zeal for learning. Even so, training and learning are but steppingstones. The ultimate aim of true education is the building of character. One trains only for tasks, while character becomes the substance of one's eternal identity."
Our mission is "to develop capable and trusted disciples of Jesus Christ." To be capable means being prepared with essential workplace qualities and capabilities. To become capable is an act of faith in the Savior and His Atonement. To become capable requires diligent, intentional effort. We will only become capable as we learn to love learning— becoming agents unto ourselves who are not only willing to act but who actually do act.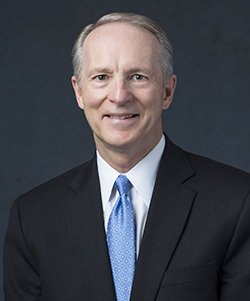 "The building of character is the very essence and purpose of your education, and our work, at Ensign College." - President Bruce C. Kusch
To be trusted will require us to be guided by an inner moral compass—that is the Holy Ghost and the related spiritual gifts He makes possible. It means doing what is right at all times, in all things, and in all places.
To be a disciple of Jesus Christ means that we are committed to Him, that we believe on Him, that we willingly take His name upon us, that we follow Him, that we enter into covenants with Him, and that we intentionally strive daily to live by the truths found in His restored gospel.
To be a capable and trusted disciple of Jesus Christ is to be someone whose character is founded and built upon righteous principles—principles that allow us to develop the character and attributes of Jesus Christ.
The Lord needs men and women with an inner moral compass that will ever guide them to make correct choices, with a steadfast and immovable commitment to defend and build the kingdom of God on the earth—no matter what.
Character is not built in the crucible of challenges, trials, and tribulations. But it is tested in the midst of these fiery furnaces. When we face them, and face them we will, if we are found lacking in character, it will be too late to develop it in the moment of need. Rather, character and the companion virtues of courage and faith are intended to guide, support, and sustain us, to lift and strengthen us. When we find ourselves facing the fiery darts of mortality, we will drink deeply of Christ's living water, extinguishing the adversary's fiery darts, and we will come off conqueror.
Guard your character as you would guard your own life. It is an essential part of being a capable and trusted disciple of Jesus Christ. It is essential to your eternal identity. And when the Lord knows we can be trusted, the heavens open and blessings are poured out far beyond anything we might imagine.
This message is adapted from "Character: The Substance of Our Eternal Identity," a devotional address given April 20, 2021
Scholarships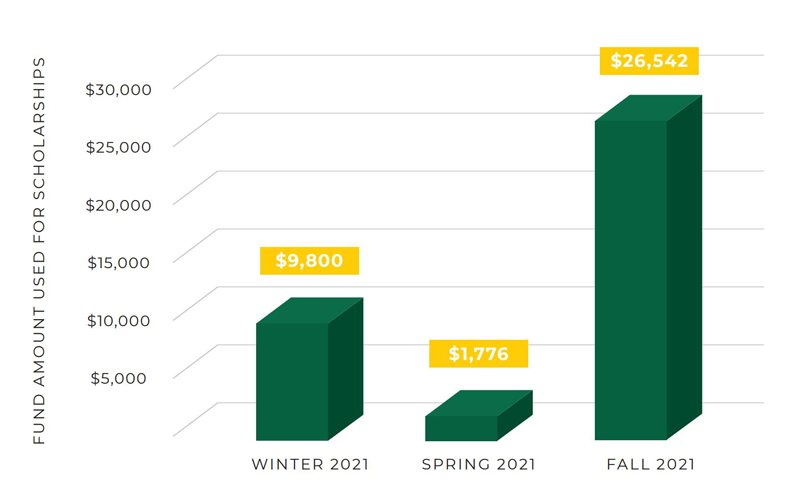 Since updating the scholarship process earlier this year to one streamlined master application for all scholarships, giving a scholarship to those who need it most has never been easier. Students are now matched with scholarships that fit their major, eligibility, and financial needs, so they know which applications to fill out. As a result, more students will be encouraged to apply for scholarships and benefit from the generous donations given to the school. Scholarships bring not only financial stability but also the spiritual and emotional support students need to continue with their education. As the college continues to implement capabilities with the new system, processes for students, administrators, and donors will be better equipped to serve each group's needs.
Returned Missionary Scholarship
Thanks to generous contributions, the Returned Missionary Scholarship was recently updated to increase the total amount of the offering and allow students to receive the scholarship for two consecutive terms instead of one. These changes reflect Ensign College's desire to help students continue with their education by assisting them with tuition costs for a longer period and inspiring more returned missionaries to attend.
Ensign Hope Scholarship
The eligibility for this needs-based scholarship was recently changed to allow for more students to apply and receive financial aid, including those who are enrolled as part-time students. Ensign College expects the scholarship to experience significant growth as the funds are better utilized, blessing more students than ever before.