Voter Registration Award Comes to BYU
March 2023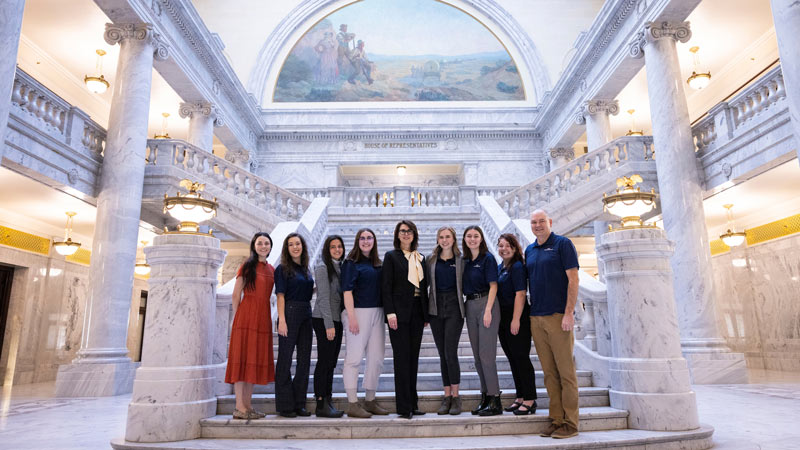 The Campus Cup is a statewide competition in Utah to see which college or university can register the greatest percentage of student voters. In December 2022, Lieutenant Governor Deidre Henderson presented the cup to six BYU students from the BYU Office of Civic Engagement.
Prior to the 2022 election cycle, BYU students worked to educate and inspire the campus community about the voting process. As part of this effort, student volunteers staffed voter registration tables on campus and encouraged other students to register using a unique URL. The result was that more than 1,300 students registered to vote who otherwise might not have.
"Civic engagement is . . . for everyone because politics affect everyone," says BYU political science student Sarah Quesenberry.
Together with the Utah County Elections Division, the BYU students also hosted an open house on election security. Attendees toured the ballot center to learn about signature verification, election security, and fraud prevention.
Sydney Ward, a communications student who is studying public relations, says the event helped to resolve the students' concerns about the integrity of the voting system. "I was impressed to see the power that a single conversation could have on students," she says. "Our elections are run by people who believe wholeheartedly in the process."
The Campus Cup will be in Provo until the 2024 election cycle. "I put everything I could into this project," says recent political science graduate Madi Schlesinger. "BYU had never participated in the competition before. It shows that BYU has a lot to offer in terms of being civically engaged."
Political science professor Quin Monson directs the BYU Office of Civic Engagement, which provides students and faculty with opportunities to become engaged in their communities.