True-Blue Couple Supports Mentoring
December 2017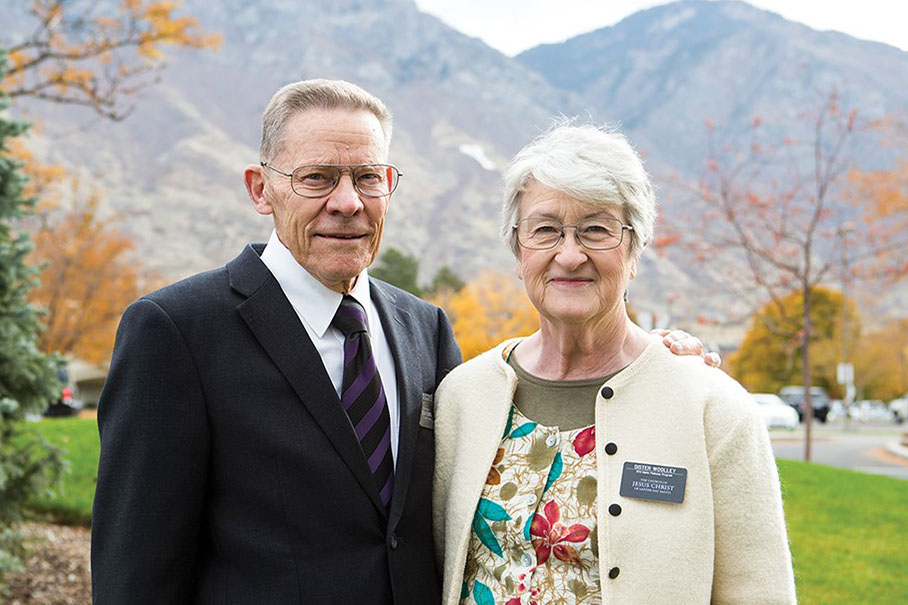 Anita Woolley, who graduated from BYU with a degree in chemistry, and her husband, Earl, a retired former dean of the College of Physical and Mathematical Sciences, enjoy visiting colleagues and meeting students on campus. "There is an uplifting vibrancy about being in the presence of these young, bright, faithful people," Anita says.
Earl, a PhD alumnus of BYU, taught chemistry at the university for almost 30 years before serving as dean, and he believes BYU has the most capable undergraduates anywhere. "Assisting them to accomplish hard things beyond their initial vision is fulfilling and inspiring," he says.
The couple met as undergraduates at BYU, where they both worked in the same chemistry lab but on different mentored-research projects. They say that BYU has shaped them, their children, and their grandchildren. "The unique blend of academic rigor and religious faith and the sincere effort of faculty members to help students, especially undergraduates, is what makes BYU special," says Earl.
Implementing a Planned Gift
Anita says that she and Earl met in, were nurtured by, and grew through the close care of faculty members. "Giving is our opportunity to help others beyond our own family to enjoy the blessings of BYU."
Earl adds, "Our donations mainly support undergraduate mentored research, which we love because it lifts students as they explore and apply classroom principles—it enhances learning and inspires students to raise their vision of what they can accomplish."
One of the ways the Woolleys have chosen to give is by establishing a charitable gift annuity, a donation tool that provides annuity payments to the donor. "It was a practical way for us to donate now and have a little regular income in the future," says Anita.
The couple enjoys meeting and reading letters from students they've supported. "Hearing how they have grown from their research experiences, knowing that we have provided needed financial support—our rewards are not tangible, but we have a deep sense that we have helped," says Earl.
MORE: A charitable gift annuity (CGA) is created when cash or securities are transferred by a donor to a charity that invests them to generate annuity payments for the donor and funds to benefit the charity. In many cases, annuity payments from a CGA are received tax-free.
WATCH: A short, easy-to-understand video about CGA's can be viewed here.
Make a Gift