Student-Centric Professor Leads BYU Advancement
January 2021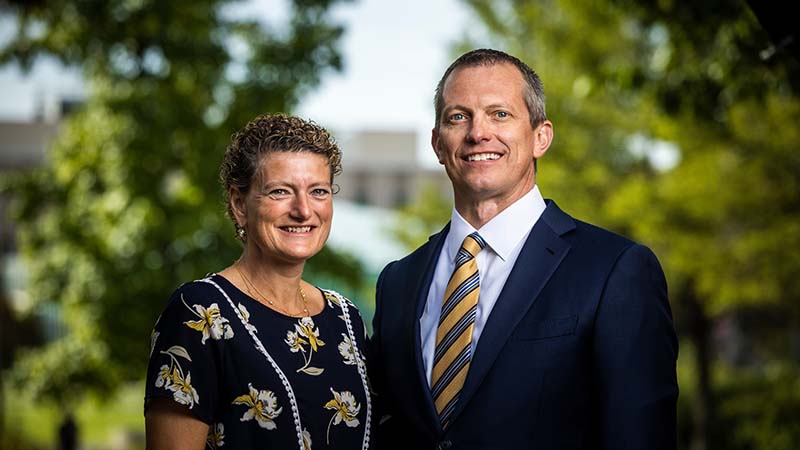 Photo credit: BYU Photo/Nate Edwards. Marcie and Keith Vorkink love being part of the BYU community. Keith is the university's new advancement vice president, having most recently served as an associate dean in the BYU Marriott School of Business.
An invitation to meet with the university president wasn't something Keith P. Vorkink was used to getting. Vorkink was happily serving as an associate dean in the BYU Marriott School of Business and wasn't expecting what President Kevin J Worthen had to say.
"The president said that he needed a new advancement vice president and invited me to consider the role," says Vorkink. "I and my wife, Marcie, did just that, and the more we considered, the more comfortable we felt. In less than a week, we were excited for the new opportunity, one we had never anticipated."
The advancement vice president oversees entities whose audiences include communities external to campus, including BYU Athletics, Alumni and External Relations, BYU Broadcasting, Philanthropies, and University Communications.
Marcie says, "Keith's already-large love for BYU has grown exponentially over the past 20 years because of his work with great students and wonderful mentors and colleagues. He has grown professionally and personally and is excited to serve in this new role and share his love for BYU with others."
Scholar, Teacher, Mentor
As a full-time faculty member, Vorkink enjoyed teaching and mentoring students. "Witnessing moments where knowledge changes the way a student sees the world and then seeing them launch into their own careers and lives is deeply rewarding," says Vorkink.
As the faculty associate dean of the Marriott School, Vorkink observed, "The faculty who really tried to both mentor students and do high-quality research were ultimately successful in doing both; but it required some faith and experimentation as this approach is generally not taught in PhD programs."
Vorkink believes that BYU's expectation of faculty members to be great scholars and to simultaneously care for and teach students is unlike any other university's way of educating. "When it happens the way our mission statement expects of us," he says, "it transforms both the students and the faculty member."
From North to West to East and Back
Vorkink grew up in Alaska and loves basketball and all things outdoors. He came to Utah to play basketball at Snow College and then transferred to BYU where he earned his bachelor's degree in economics. After graduating, he and Marcie moved back east for graduate school where he earned master's and doctoral degrees in economics from the University of Rochester.
"My father had a PhD in chemistry, and I always admired his commitment to education and aspired to be like him," says Vorkink. "At a young age, I would say I wanted to earn a PhD, even though I knew very little about graduate studies."
He has held faculty positions in the finance departments at Bryant College and at the Sloan School of Management at MIT. His research focus is the intersection of behavioral economics and asset pricing.
Keith and Marcie enjoyed their time in the eastern United States, but when BYU came knocking, the Vorkinks were impressed to return to Provo so Keith could work at BYU.
"I love the colleagues I worked with and the undergraduate students who I taught and mentored while in the finance department, where I spent over 12 years as a faculty member," says Vorkink. He then went from a full-time faculty role to the dean's office of BYU Marriott, where for more than seven years he worked with two deans, Lee Perry and Brigitte Madrian, and their teams.
At the time of Vorkink's appointment as vice president, Dean Madrian said, "Keith has been an exceptional leader in the college, championing faculty development and scholarly excellence. We have all benefited from his wisdom and good judgment."
To Those Who Care Enough to Share
One of Vorkink's roles in the BYU Marriott School dean's office was coordinating the National Advisory Council, the college's advisory and fundraising group. "I loved working with the NAC and getting to know people who care so deeply about the success of BYU and the Marriott School," he says.
In his role as advancement vice president, Vorkink now gets to see the impact that donors have across campus. "Getting to know consecrated people who give to BYU is very humbling for me," he says. "Our success depends on this network of people who care enough to give of their resources to assist BYU."
Vorkink is excited about his new role advancing the university, its mission, and its students. "I love that BYU helps to develop and build leaders in families, in faith, in business and communities. Because of this commitment to development, our students leave campus well prepared to lead in these areas throughout the world."