Kalani Sitake Inspires Knight Society
Oct 2018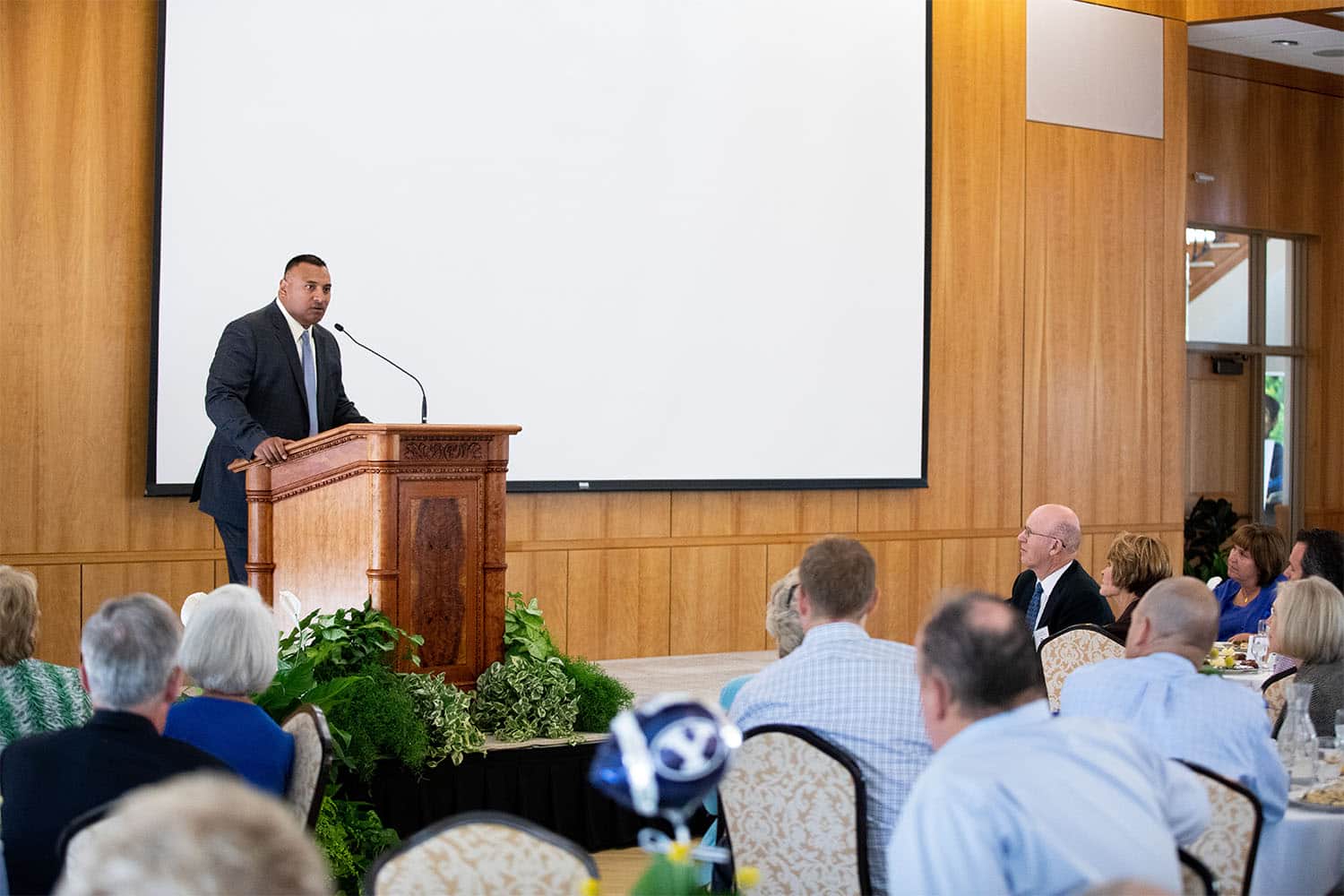 At the tender age of six, Kalani Sitake's world came crashing down.
Following his parents' divorce, Sitake spent three years bouncing between family members as his dad tried to finish school.
"My whole world felt flipped upside down; I felt broken," Sitake said. "The only thing constant in my life was BYU. The only thing I liked was BYU sports."
Speaking to a group of Knight Society members (those who have included BYU in their estate planning) at their annual luncheon, Sitake recounted the day a BYU football player, fresh off a national championship victory, visited his elementary school and made an effort to reach out to the shy 9-year-old Sitake.
"One player came over and saw me sitting on the side and just came over and talked to me for a few minutes, and that conversation changed my life," Sitake said. "At the end, he leaned over, gave me a hug and said, 'God loves you and everything is going to be fine.' I've heard those words a thousand times before but that was the first time I believed it."
Sitake credits that hug with setting him on the path to BYU.
Now, as head coach, Sitake is working to build a team culture centered on preparation, belief and confidence.
"Since January, we've been trying to establish and work on having more belief," Sitake said. "As we work hard and study hard, we build our confidence and confidence builds belief. When everyone questioned us against Wisconsin, we had no doubt."
The team is also working to help others believe in themselves. As part of coach Sitake's More to Life Initiative, members of the BYU football team traveled to Harlem to mentor young athletes.
"You don't realize how much power is in this room," Sitake told the donors. "The sacrifices you make in time, in money, no matter how small, have the power to change lives."
The Jesse and Amanda Knight Society is open to any donor who has named BYU in a deferred gift such as a BYU retirement account, a will, a life insurance policy, a gift annuity or a trust. There are more than 1,000 current Knight Society members, including current and retired BYU employees.
Find out how you can join the Knight Society or contact Philanthropies (801-356-5251 or legacy@churchofjesuschrist.org).