Learning by Receiving and Giving
February 2020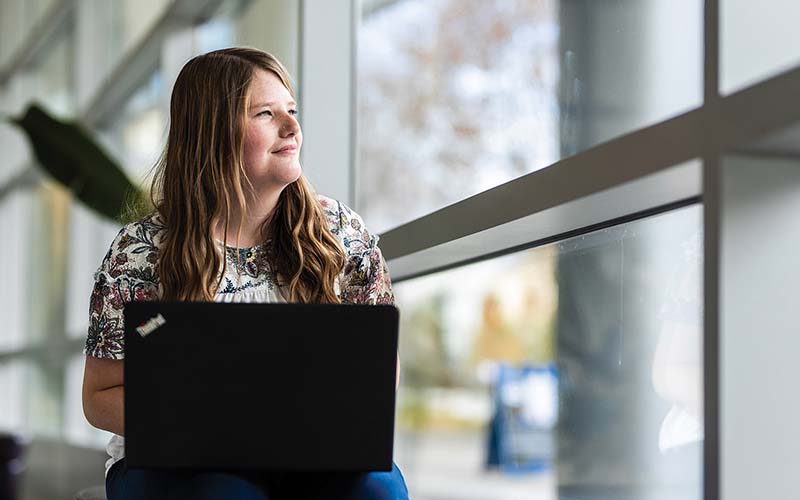 Emily Niederhauser's mother passed away during finals week when she was a freshman.
"The news hit me extremely hard. My mom had become my best friend," says Niederhauser, now a senior studying family life. "When we learned she was sick, I decided to embrace every second I had left with her. We spent many nights watching movies, talking, or going on ice cream runs. Those were great times."
With her mother gone, Niederhauser, who is the youngest of five children, felt added pressure to cover her college education expenses herself.
"I want to graduate from school without student debt," she says. "In order to achieve this goal, I have worked all throughout my college career and lived frugally. To date, I have been able to pay for my tuition without the help of my parents or loans."
She applied for and was awarded an Alumni Replenishment Grant, which has allowed her to meet her needs and continue studying.
"I want to do something with my life to help others feel the same joy with their families that I do with mine," Niederhauser says. "I love learning how families work and what makes them thrive."
Paying It Forward
Replenishment grants at BYU are given to students whose costs of education may not be met through other financial aid programs, with preference given to juniors and seniors. The grants are funded by alumni and friends of the university, often through geographic BYU Alumni Association chapters.
Student recipients of replenishment grants receive financial aid and are invited to assist those who will follow. Replenishment grants help students reach their educational and financial goals. "Replenishment to me means to give back for the opportunities I had here," says Niederhauser. "I hope to do this with my life."
Although there are no legal obligations to repay the grants, each year the Alumni Association is contacted by awardees who want to do just that. "Some pay in increments, others all at once," says Roy A. Brinkerhoff, manager of chapters and replenishment grants. "One student's business returned the grant amount threefold."
Niederhauser has loved her BYU experience. "Learning in a spiritual setting, my testimony has grown so much. I have established habits here that I know will help me in the future. I have participated in extracurricular activities and served others. And I have been blessed with opportunities for growth in my ward," she says.
Going forth to serve excites Niederhauser. "Taking the classes I have taken and will take, I know I will have the understanding necessary to help others," she says.