NASA's Artemis I Launched, and BYU Heard It
March 2023

How loud was the world's most powerful rocket as it blasted off from NASA? A team of BYU Accoustics students and professors waited weeks to record and study its impact.

After several postponements and delays, NASA's Artemis I rocket finally launched on November 16, 2022, and as promised, BYU students from the College of Physical and Mathematical Sciences were listening at the Kennedy Space Center. "We had a total of nine stations all surrounding the pad at different angles relative to the rocket," says Carson Cunningham, a BYU senior studying applied physics. "We wanted to see how the sound propagated through the atmosphere."

Seeing the rocket blast off brought a feeling jubilation—and relief—to the BYU team. Following the launch, the students went to inspect their stations to verify that they had captured the data.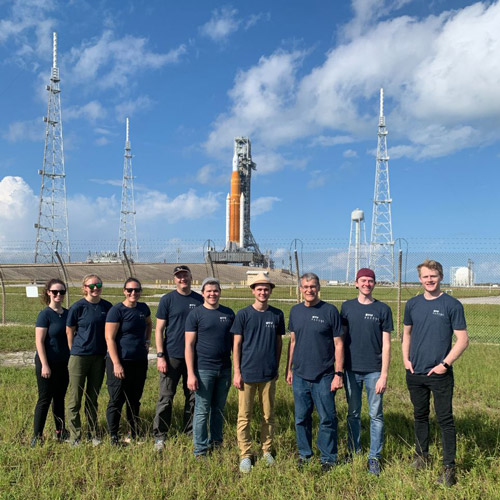 "It's nerve-racking to put your microphones out there and have wind and water and everything else that could inhibit them from performing as well," notes Kent Gee, a BYU professor of physics and astronomy who accompanied the team to Florida. "You only get one shot at this right when the rocket launches. If you're not prepared, you get nothing."
But, says Cunningham, "we pulled up the files and checked to make sure we had everything, and we were all just crowded around and cheering when we saw that we had."
Gee says the rocket's boom measured about 137 decibels nearly a mile away from the launch and adds that the data will inform scientists on how to manage the impact of massive sound emissions from a growing number of rocket launches in the US and around the globe. The journal JASA Express Letters will publish the findings and measurements taken by the BYU team.