Landlocked BYU Asked to Help Molokai's Reef
October 2023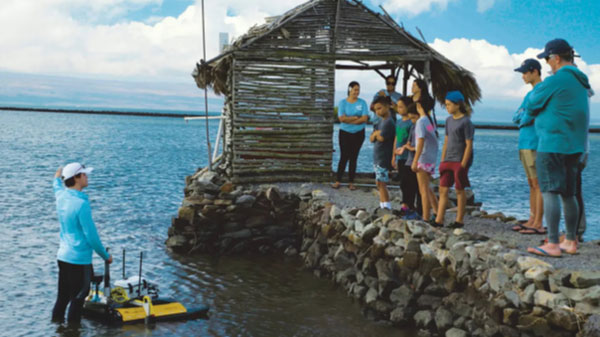 Reefs worldwide are threatened by ocean acidification, overfishing, and coral bleaching caused by warming waters. But Molokai's reef faces an additional danger—dirt.
Upland sediment has eroded and run off into the ocean for decades, muddying the water and blocking out the sunlight coral requires to grow. In 2019 the Molokai-based conservation nonprofit 'Āina Momona called on BYU, in landlocked Utah, to partner in finding solutions.
Since then, an interdisciplinary team has brought nearly 50 BYU students to the island of Molokai, part of the state of Hawaii. Their work involves aerial and—more challenging—underwater surveying, which puts BYU engineers and biologists in the same boat, fighting nausea and diving down 25 feet to collect sediment samples.
The game changer: a BYU-built autonomous robot that not only collects samples but also creates a geotagged 3D map of the reef that is detailed enough to distinguish between individual coral colonies. The map will serve as a baseline from which 'Āina Momona can track further reef degradation or—they hope—successful mitigation.
This project is exactly the kind of inspiring learning that BYU exists to instill. "It takes their learning and inspires them to apply it," says BYU biology professor Richard A. Gill.
The work is personal to L. Kala'i Ellis, a BYU biology grad student and the lead student researcher on the project; his great-grandmother lived on Molokai, and her activism is still remembered in local lore.
As a biology major, Ellis enrolled in a BYU geospatial-analysis class "on a whim" as an undergrad.
He went on to minor in geographic information systems. Little did he, a native Hawaiian from Oahu, know he'd end up using it in his own backyard.
"It's one thing to learn about [science] in a classroom—to watch videos, to read about it. But [it's] not until you actually feel like you're making a difference . . . that things start to click," he says.
—By Brittany Karford Rogers and Julie Harker Walker for Y Magazine. See "Mauka to Makai" in the spring 2023 issue.