Inspiring Engineering
January 2018
When a team of BYU engineering students and their professor set out to develop a human-powered drill six years ago, little did they know the impact its creation would have on hundreds of thousands of people around the world. Nor did they foresee the professional and spiritual legacy the Village Drill would create in their own lives.
More than a billion people lack access to clean drinking water, and more than 3.4 million people die each year from waterborne illnesses, according to WHOlives.org. Access to clean water is scarce, in part due to the great expense of drilling.
Enter BYU engineering students led by Professor Chris Mattson, who were commissioned by the Utah-based nonprofit WHOlives.org and the Ira A. Fulton College of Engineering and Technology to develop a human-powered drill that could bore a hole deep enough to provide clean water while still being portable enough to reach remote villages, all at an affordable cost.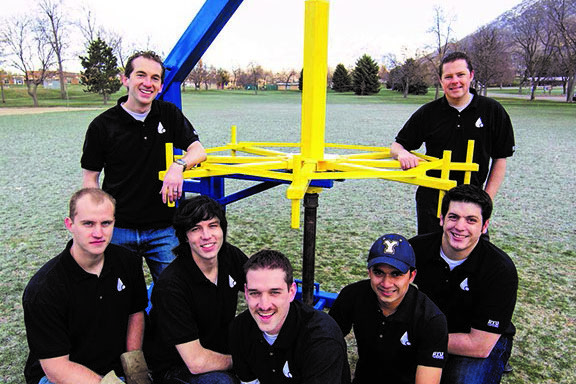 In 2011 BYU students Nathan Toone (standing, left), Devin LeBaron, Jimmy Stacey, Eric Janmohamed, Sabin Gautam, Kenneth Langley, and their professor, Chris Mattson (standing, right) engineered the manual, portable, and affordable Village Drill.
Inspired Design
The team that undertook the drill design as a project in their capstone course, which integrates classroom learning and applies it to real-world situations, ran into complications as they completed the final model. But their belief in the project pushed them to put in twice as many hours as the course required.
Ken Langley, the student team leader, says the team generated more than a hundred concepts. The chosen design consisted of a large crane-like beam, a hand crank, and a horizontal wheel that spins like a certain TV game-show wheel. The design can be operated by four people easily, as three spin the wheel, turning the bit, and the fourth lifts the bit up and down when needed.
Moments of inspiration were needed along the way to create a viable solution, says team member Nathan Toone. "We felt there was inspiration throughout the design process, and the fact that there were families waiting for this drill was a great motivation," Toone says.
"I remember having the impression to use solid metal bars for the wheel's handles," Toone says. "Although it was a simple solution, the bars added a lot of weight to the wheel spokes. As it turns out, that extra weight created a flywheel effect that makes it so easy to spin and keeps momentum going."
For Toone, that spark of inspiration was an example of the overlap between spiritual promptings and secular learning. He says, "It was only an engineering class project, but I felt the answer was given to me in that moment, and the drill has turned out to be part of blessing so many lives."
Inspired Results
After seven months of intensive work, the team successfully used the Village Drill in Tanzania.
"Seeing something go from a good idea to an actual functioning product was incredible," says team member Jimmy Stacey. "We spent so many hours on failed concepts, failed prototypes, failed builds, that to see the final drill actually creating a borehole was very special."
The original idea for the creation of the drill came after WHOlives.org founder and BYU alum John Renouard felt compelled to help people in African countries access clean water. He contacted his alma mater about his idea, and today there are 55 Village Drills being used by WHOlives.org in 25 countries. More than 1,200 boreholes now provide clean water to hundreds of thousands of people.
"It's not every day you can work on a project that has the potential to change the world," says Renouard. "I hope these students never lose sight of what they did during those seven months to develop the drill."
Mattson says that for every hour of engineering spent by students, more than 1,700 people-months of water have been delivered. "That's amazing," he says. "That's the kind of impact we want to have."
Inspiring Learning
Besides providing water to people in need, another benefit of the project was the career and life preparation provided to the students involved, says Langley. "This project allowed me to integrate what I had learned from many of my courses," he says. "Having a large project over several months helped me become more familiar with the design process and work on something on a larger scale than is possible in a semester."
Stacey says that while working on the Village Drill, he developed skills he now uses in his full-time job. "Understanding the development process stuck with me the most," says Stacey. "Seeing something go from a good idea to an actual functioning product was incredible. Learning to push through different concepts quickly was influential on me."
Toone sees the Village Drill capstone project as the highlight of his BYU experience: "It encompassed everything that engineering and BYU stand for: solid engineering principles, working as a team, blessing the lives of others, sharing goodness throughout the world, and seeking inspiration in our efforts through prayer and faith."
Langley says he is humbled by the impact that the project has had throughout the world. "When we were designing and building the first prototype, I had no inkling that the impact would be this large," says Langley. "I can see how the Lord has guided me to where I am now as a result of the experiences I had then."
DEVELOP DRILL AND REPEAT: The original Village Drill has led to two more capstone projects for WHOlives.org:
In 2013–14, with support from U.S. Synthetic and the Shipp Family Endowed Fund, WHOlives.org asked BYU to make something good even better. A new student team modified the Village Drill so it could bore through harder rock—making it useful in locations where previously it was not. The team consisted of Professor Tadd Truscott and students Angela Henrie, Brandon Mitchell, Dan Nelson, Dan Porter, Eric Townsend, and Ross Welch.
In 2017–18, another student team is working to enhance the drill again. In areas of the world like India and Cambodia where the water table is as close to the surface as 30 feet, the Village Drill, designed to bore down 250 feet, is overkill. Smaller and lighter is the goal. This team consists of Professor Amy Wood and students Victoria Bautista, Kwame Buah, Matt Goodson, Sterling Hofman, and Danny Smith.
Make a Gift