From Mach 2 to 2L
November 2020
Three years ago, Christopher Melling had never written a legal brief, studied for the LSAT, or attended a religious service of the Church of Jesus Christ of Latter-day Saints. Trained as a fighter pilot by the United States Marine Corps, Major Melling was completing his term of service and ready to take the next step in his life. He was planning to go to law school.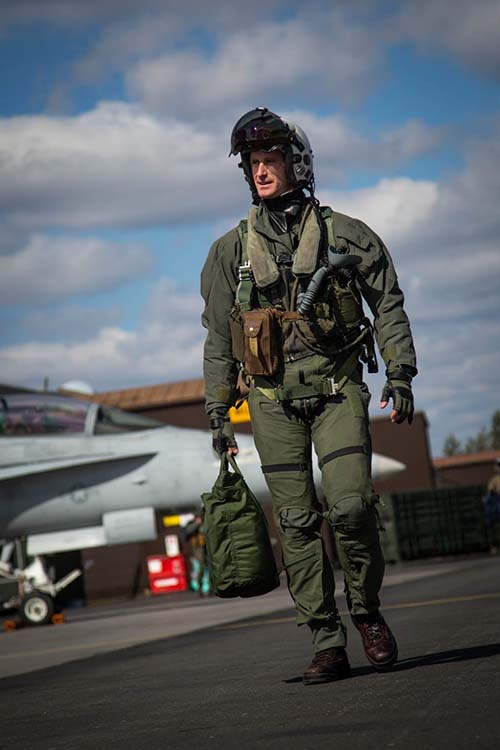 Raised in the semi-rural, coastal town of New Bern, NC (birthplace of Pepsi-Cola), Melling said there was never any question what he wanted to be when he grew up after he saw his first air show at nearby MCAS Cherry Point at age four.
Melling's inner drive to accomplish things that are both really worthwhile and really difficult meant that nearly 20 years later, he was an elite Marine pilot, captaining the F/A-18 Hornet. Over his 13-year Marine Corps career, deployments took him to over a dozen countries, including Bahrain, Japan, Jordan, Kuwait, South Korea, and Thailand.
"I started thinking," Melling recalls, "that as worthwhile as being a Marine fighter pilot was, there might be something more I could do." He remembers at the time there were consequential political and constitutional issues being decided and it seemed that the people making those decisions were all attorneys. "Law school was my road to be part of those discussions," he said.
Exploring options at a law school fair held in Washington, D.C., Melling was weighing his options. "Like I did with my choice of undergraduate university and military service, I wanted to be at the top-ranked place," Melling said. "I wanted to learn from the best." Hours later, just before the fair closed, the BYU Law booth caught his eye. "It intrigued me, and I wondered, what was this school about?" he said. "I ended up adding it to my short list of schools to visit.'
Christopher's visit to Provo changed his life in more ways than one. There, "it just clicked."
"The spirit of the law school spoke to me," Melling exclaimed. "Other schools I visited were clearly great places to learn the law. But BYU convinced me that here, I would learn both the law and how to use the law in worthy causes."
During his visit to the law school, Dean Stacie Stewart offered Melling a list of 10 places to see while in Utah. Melling had been to Salt Lake City several times for skiing but had never been to Temple Square. So in honor of his major in history, courtesy of the Naval Academy, that's where he started. And that's where he spent most of his Saturday.
"I'd been through both visitors' centers, the Church History Museum, and the Tabernacle," Melling remembers. "Finally, one of the sister missionaries approached me and asked if I'd ever read the Book of Mormon." He left that September afternoon with his own copy and began reading and praying about it.
Something clicked again—Christopher was baptized within a month.
"What I learned offered me a fuller perspective of the truths about Jesus Christ that I already believed," Melling said. "Something had been missing in my life, and I had found it—the answers I wanted and needed."
Melling, who is about halfway through his legal education at BYU, is happy with his choice. "Law school is hard, but so was flight school," he said. "There are definitely days it helps to be a Marine, but the difference here is that everyone, the students and the faculty, they genuinely care."
"If I had to decide right now, I'd like to be a federal or state prosecutor, or serve as counsel for a national security agency," remarked Melling.
Melling's commitment to using what he is and what he knows to protect others and to better the world hasn't changed. But his ordnance of choice will likely be a well-written legal brief instead of a 1000-pound LASER-guided bomb when he stands for justice or protects innocents in the future.
Regardless of his post-graduation choices, you can rest assured that Christopher Melling, and his BYU Law classmates, will be pursuing their futures at Mach-speed.