Filling a Knowledge Gap
June 2022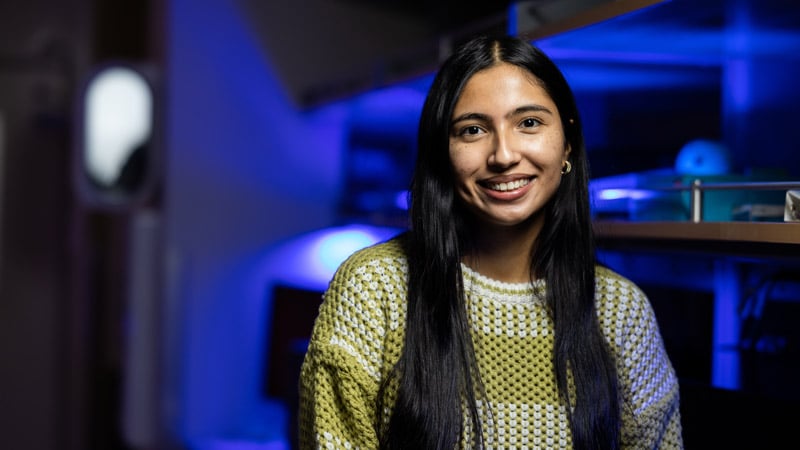 After her friend was diagnosed with multiple sclerosis (MS) at just 17 years old, Amy Hernandez, then in her second year of studying molecular biology at BYU, began doing hours of MS research with her mentor, biology professor Mary Davis.
MS is a neurological disorder that affects the central nervous system, sometimes leading to the inability to walk or function independently. Early onset MS disproportionately affects people of color, whereas the majority of MS patients are females of European descent. Scientists have identified more than 200 mixed-up gene sequences that cause MS. However, the research has primarily studied males of European descent, leading to an increasing mortality rate for non-Hispanic Black males. Hernandez and Davis hope their research will create greater understanding of this disparity.
Hernandez read as many papers as she could find on MS, specifically on how it affects people of color and women. She received a CURA (College Undergraduate Research Award) for her research examining electronic medical records for patterns in those with MS diagnoses. "It's very important to just ask questions, because even if there's no answer, maybe you can be the one to find that answer or help someone else find one," she says.
With a year of her college career still ahead of her, Hernandez has time to ask even more questions. "I want to keep on the track of minorities and MS or women and MS," she says, "because it affects me, as a person of color and a woman." A recent survey revealed that nearly 20 percent of College of Life Sciences students identify as people of color, but Hernandez still feels minorities are sometimes "overlooked" within the STEM field.
Hernandez hopes to take a gap year after graduation and then either pursue graduate studies or enter physician assistant school. Her interest in diseases extends to their treatments; she's considering studying ways to alleviate treatment side effects. Hernandez also hopes to study diabetes with Professor Davis before she graduates.