AdLab Wins Student Emmy Award
March 2023

Can you imagine BYU students making an ad about selling your car to buy a wedding ring? AdLab students did and won a prestigious award.

In 2022, BYU students claimed the top spots in the Best Commercial category at the 41st College Television Awards, or "Student Emmys."

"Life's Journey" is the winning commercial created by BYU AdLab students Tyler Richardson and Asher Huskinson, with Rebekah Baker as producer and Campbell George as writer. The spot depicts a young man who saves to purchase the car of his dreams—a Ford Mustang. But when he meets the woman of his dreams, he sells the car to buy a ring.

The story featured in the ad is the real-life experience of Richardson's parents, Matt (former BYU advancement vice president) and Lisa Richardson, currently serving as mission president in the Minnesota Minneapolis Mission.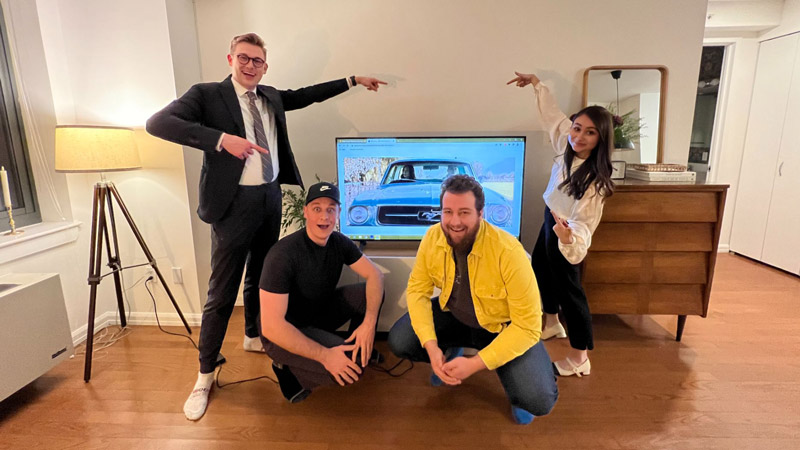 Richardson said his parents' story has always inspired him. "It made me realize that there are more important things than a car. It was such a wonderful, special story that I wanted to retell it."
Now an alum, Richardson says of his time in Provo, "BYU and the AdLab really helped me earn my dreams. It was a great opportunity to be surrounded by so many smart and talented individuals who pushed me to become something better each day."
BYU students won best commercial in the 2020, 2021, and 2022 Student Emmy competitions.
The top student-animated short also came from BYU. Stowaway follows the story of a cute baby kraken that ends up on a pirate ship and frightens the pirates. Recent animation graduates Tyler Bitner and Ethan Briscoe led the movie's creative team: Bitter produced the short film, and Briscoe wrote and directed it. In all, more than 20 students worked to bring it to life.