Caring for Those in Need
"Around the world, members of The Church of Jesus Christ of Latter-day Saints find joy in giving our time, talents, and resources to help those in need—especially when it is not convenient or comfortable to do so. We are grateful for opportunities to become better disciples of Jesus Christ as we live His second great commandment."
—Sister J. Anette Dennis, First Counselor in the Relief Society General Presidency
Our Commitment to Give
Service Within The Church
As part of our covenant to love God and love our neighbors, Church members fast for one day each month and generously donate the value of the meals missed to benefit other members in need.
In addition, Church members offer their time, talents, compassion, materials, and financial resources. These contributions are part of the "Lord's storehouse" of resources to help His children.
As members of The Church of Jesus Christ of Latter-day Saints, showing love to others through sharing resources and giving service is a fundamental part of our beliefs—and has been since the early days of the Church.
The Relief Society is a women's organization charged with caring for individuals and families experiencing need. Established in 1842, the organization has guided generations of Church members as they have worked to minister to anyone in need of help. In 2022, this dedication to charity was honored through a day of service projects completed around the world, celebrating the Relief Society's 180th anniversary.
For members of the Church, this service is natural and done without expectation of recognition or reward. Kym, a Church member in Germany, summed up the willingness of members to serve, saying, "The Lord's storehouse is people who willingly devote their time, talents, skills, or material means to help others … regardless of race, religion, or situation. It is humbling to be part of the Lord's storehouse."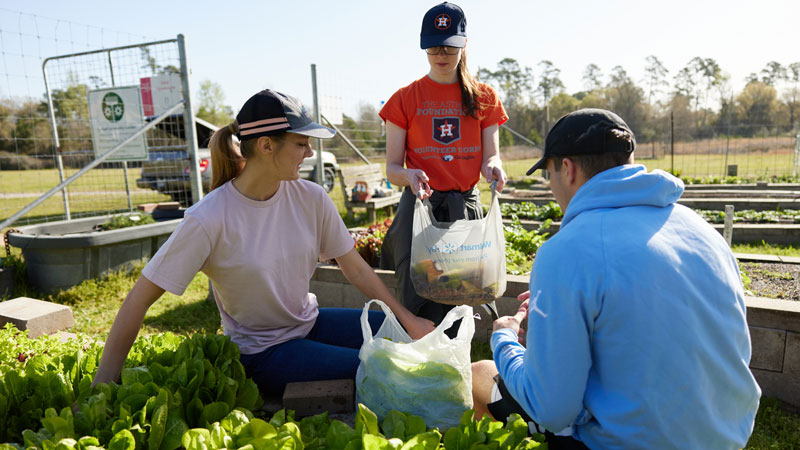 Service to All
Last year, Church congregations in Colombia organized and collected donations for the Casa Hermana Helena Foundation. These donations allowed young girls who had been abandoned to feel safe and loved as they adjusted to their new lives.
In the Pacific Area, Latter-day Saints came together to support their neighbors after Tonga was impacted by an earthquake, a nearby volcanic eruption, and a tsunami. Congregations throughout the area worked together with their community to donate and collect food, clothing, water, hygiene products, and equipment to help the people in Tonga. This included 300 tons of supplies from Tahiti alone.
When a severe snowstorm stranded dozens of adults and children in Idaho in the United States, the local Church congregation opened their meetinghouse. Together with their community, they provided hot meals to the travelers and collected donations of toys, infant formula, and other necessities to help until the storm passed and the roads reopened.
In 2022, Church members' donations of blood to the American Red Cross surpassed one million units, reaching an estimated three million people. Similar blood drives are organized by congregations in areas all over the world.
Missionaries Serving Church Members and the Community
Service Initiatives
Hundreds of missionaries across the world devote several months of their lives to help carry out the work of caring for those in need.
Some, like the Thomases, work in operations such as Employment Services that help Church members build self-reliance. They provide interview coaching, resume writing help, and networking opportunities to those looking for a job. Others serve the community at large by identifying and administering humanitarian projects in their assigned areas. Elder Christensen, for example, coordinates the Church's collaboration with Colori Vivi, a company in Italy that provides tailoring jobs and training for mothers who have been displaced from their homes.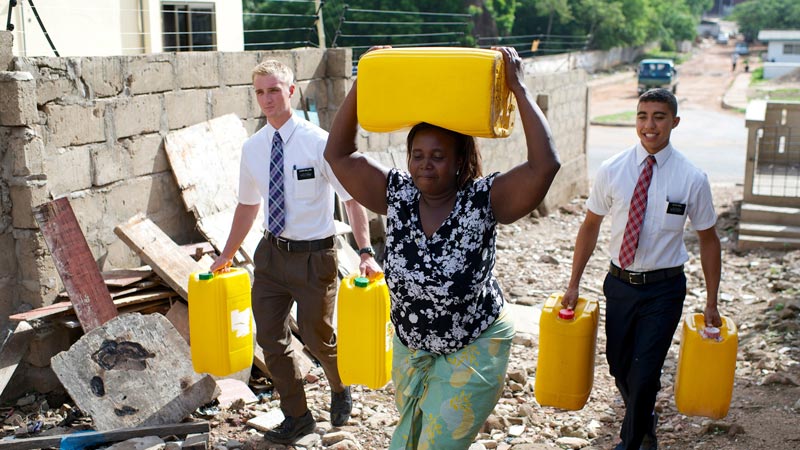 Disaster Relief
Missionaries are often called upon to offer their assistance in emergencies and other disasters. In Poland, the Footes (a humanitarian service missionary couple) helped to lighten the burdens of others when they noticed that many displaced persons arriving at the train station were hauling loads of belongings in heavy shopping bags or rucksacks. To help, the Footes began handing out donated rolling suitcases to anyone who needed them. At one point, as many as 60 suitcases were handed out in a single day.
Missionaries drove up to six hours from Canada to a small town in Minnesota in the United States to coordinate relief efforts following several floods. Over the span of a month, missionaries and other volunteers from the region worked 12- to 14-hour days placing sandbags around homes and businesses throughout the impacted areas.
These examples of service are only a few of many performed by missionaries each year. Such small acts accumulate to relieve burdens and restore hope.
"This work is exhausting, physically and emotionally," said Sister Foote. "But you can see the light come into their eyes with renewed hope. We can see we have lightened someone else's burden. It is all so worthwhile."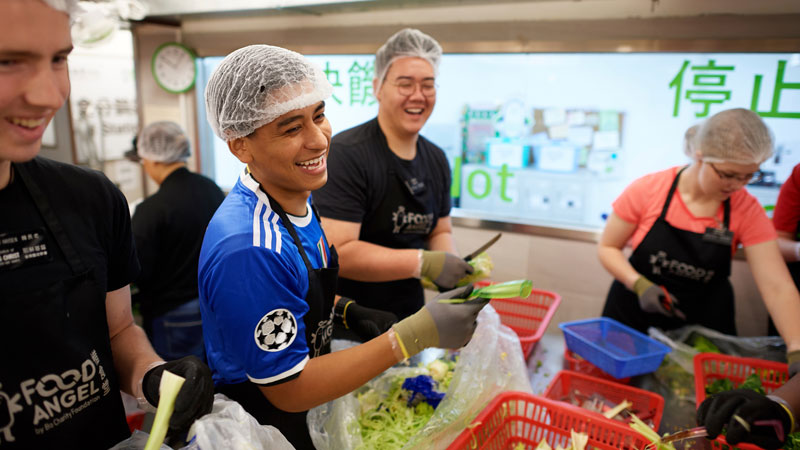 Community Service
Missionaries are encouraged to spend 4–40 hours per week providing community service. For instance, missionaries in Ecuador volunteered their time and efforts to clear debris from an abandoned lot so they could then help build a Catholic chapel. Once it is finished, missionaries plan to offer free English classes there every week for the local community.
Offering Refuge
IN 2022, the world saw a dramatic rise in the numbers of people displaced from their homes by natural disasters and armed conflict. In addition to significant financial donations to refugee assistance programs, Church members worked within their communities to support those who were displaced. "The love and desire to help is overwhelming to see," said Julia, a member of the Church in Austria. "People's hearts are drawn toward each other."
Local Assistance
Around the world, Latter-day Saints volunteered at local shelters and worked with others in their communities to donate, collect, sort, package, and deliver much-needed food, clothing, hygiene items, medical supplies, and other essentials. These donations helped people who were displaced following conflict in Europe and Africa, earthquakes and tropical storms in the Caribbean and Pacific, flooding in Asia and the Middle East, and more. In Canada, Church members hosted a traditional Ukrainian dinner for the community, raising funds for refugee relief efforts.
Emotional Aid
Emotional aid, also known as psychological first aid, is a critical support for people who have experienced a crisis. In 2022, Antonio, a Church member in Portugal, was serving at his local refugee reception center. As part of his service, Antonio received training in psychological first aid. That training taught Antonio how to show compassion and connect with the individuals he served. As he listened to others express their feelings, he felt prepared to empathize, offer hope, and suggest coping strategies.
European Response
Following the outbreak of armed conflict in Ukraine, European Church members showed their commitment to serving others. They organized thousands of beds—many within their own homes—for those displaced by the conflict. The Church worked closely with refugee assistance organizations such as the United Nations High Commissioner for Refugees (UNHCR) and Jesuit Refugee Services to connect displaced individuals with services to meet their immediate needs. In Europe, newly arrived Ukrainians were able to connect with local government agencies for help, thanks to Church members who could speak their language.
Missionaries also participated in providing relief to displaced individuals throughout the world. Missionaries volunteered at reception centers in Poland, Hungary, and Romania, offering language assistance, cleaning the facilities, serving food, and sorting donations. In Germany, missionaries were deployed to train stations, where they carried signs showing the languages they spoke and the help they could provide.
"This is natural," said Sylwia, a Church member in Poland. "When you see people who need help, you help. … It doesn't matter whether you are a member of the Church or not. [Heavenly Father] loves all people."

Children and Youth in Action
In 2022, the young people of the Church around the world organized and participated in many projects to help their fellow men and women.
In Ethopia, 70 young men and women spent six weeks planting fruit trees to feed people in need within their community. Hana, one of the young women who helped on the project, said, "It was about God, serving, and loving one another. I will never forget this experience."
In Italy, youth ages 14 through 30 traveled around the city of Milan, distributing lists of materials needed to help Ukrainian refugees. This led to the donation of enough items from the community to fill 551 boxes, which were then packed and prepared by the youth.
In the United States, young children and their families gathered to clean cemeteries around Massachusetts. Three of these children cleaned graves alongside their grandfather, who shared that the experience helped him deepen his relationship with them as they worked and talked about their ancestors.
In Fiji, 60 young men and women of the Church served their local community by repainting the Josaia Methodist Church in the village of Lomanikoro. They spent six hours cleaning and painting the walls of the building, which serves as a sanctuary for over 200 individuals.