A Lifelong Commitment to Giving
December 2021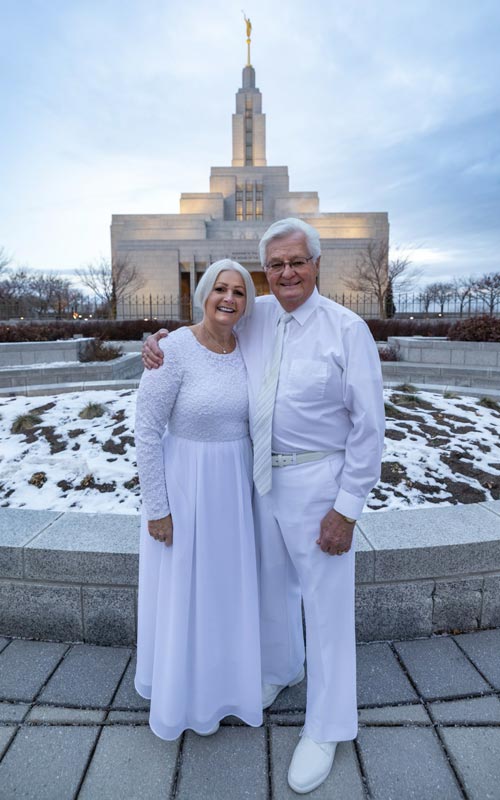 Blaine and Marcia Cutler did not attend a Church Educational System (CES) college, but that has not stopped them from giving to Ensign College, BYU, and BYU– Idaho. Blaine's 15 years of being a donor and a partner with Philanthropies has made him a familiar face at institution events and a friend to the many involved in his giving.
Blaine first became interested in donating to these CES institutions when a neighbor who worked in the Philanthropies Department talked with him about different ways to give. Blaine and his late wife, Judy, were drawn to Ensign College, BYU, and BYU–Idaho and ultimately decided to donate to all three—a gift that Blaine has continued to give after Judy's passing.
"Giving is part of the maturing process as you continue to be an active Church member," Blaine says. "As you strive to live out your covenants, you realize you need to help those in need. Donating to the schools is a way to do this. We have seen the colleges prosper and grow tremendously in the time that we've been giving."
The community Blaine has built over the years through Philanthropies has been a blessing he attributes to being a donor. Having had countless encounters with prophets, apostles, and his friend President Kusch, Blaine remembers best a meeting with a student who had received a scholarship to Ensign College.
"I met an Ensign College student from India who spoke at one of the donor events. He and his wife had joined the Church in India, which was already remarkable. And then I learned he came to Salt Lake City to study at Ensign College. Years went by, and I didn't hear any more about him," says Blaine. "Just a few years ago, my grandson was called on a mission to India. It turns out that his aunt and uncle on the other side of the family had previously served as mission leaders in India, where, lo and behold, that same young man I had met at Ensign College was working with them! He had gone on to further his education, had a successful career, and was sealed to his wife in the temple.
"In many ways, I feel connected to Ensign College," Blaine continues. "I've gotten to know the college well over the years and appreciate what it does for students. The Church schools hold students to a high standard, and those that attend receive a good education and spiritual blessings for being there."
Blaine and Marcia were married earlier this year, and Marcia has already become involved with the giving process. "Though I'm newer to the Philanthropies world, I've had a chance to visit Ensign College and feel that it would've been right up my alley when I was in college. The class sizes and overall environment are things I would've wanted when I was studying, so now I'm happy to support the college in this way," says Marcia.
The Cutlers know that each of the schools plays a significant role in drawing people closer to Christ and impacting the success of generations to come. "For anyone thinking about donating, do it," says Blaine. "It can bring many blessings—blessings to the school and to you in knowing that you've contributed to the Lord's work at these schools and that you're helping His children throughout the world."