It Takes a Village: The Organization of The Tabernacle Choir
June 2022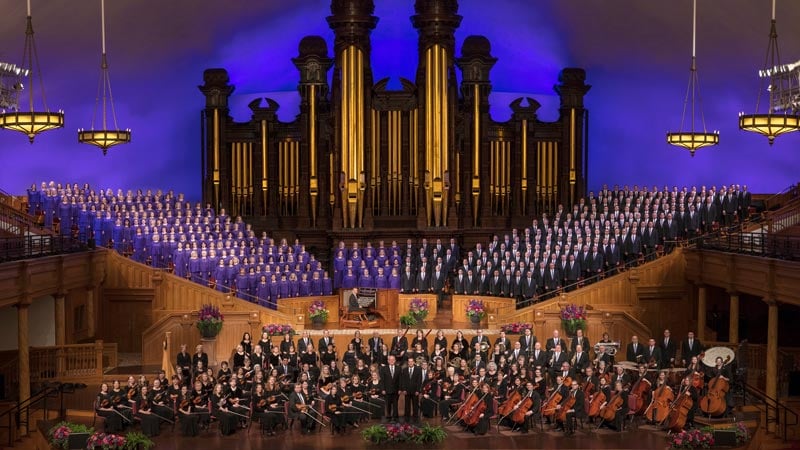 President Harold B. Lee remarked, "The most effective preaching of the gospel is when it is accompanied by beautiful, appropriate music" (Conference Report, April 1973, 181). The Tabernacle Choir at Temple Square strives to bring its listeners closer to Jesus Christ through sharing music. However, the Choir is only one part of the equation to accomplishing this task. It takes a small village of volunteers—including members of the Orchestra and the Bells at Temple Square and renowned organists, who each accompany the Choir in their own special way. Together, they create awe-inspiring performances.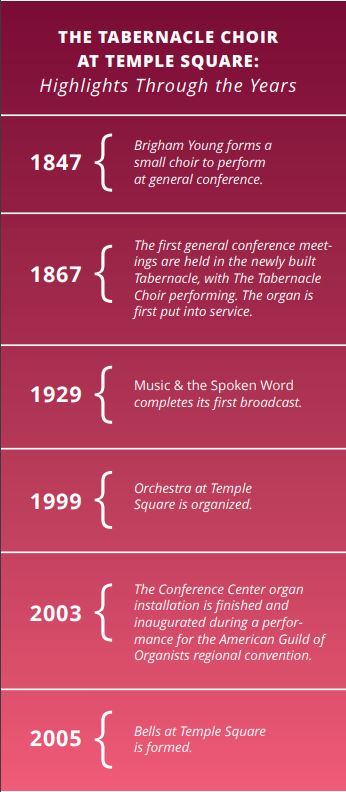 Orchestra at Temple Square
Established in 1999 as a companion ensemble to The Tabernacle Choir, the Orchestra added a new dimension of sound and abilities for Choir broadcasts, concerts, and special performances. Nearly 200 musicians volunteer each year to play in the Orchestra, with the roster including many professional musicians and a mix of students, music teachers, doctors, accountants, and others who have simply kept up their instrumental skills at a high level. Since its creation, the Orchestra has expanded the Choir's footprint in furthering the mission of The Church of Jesus Christ of Latter-day Saints as the two ensembles perform together at the annual Christmas concert, at the Easter concerts, and on tours and at other special events.
Bells at Temple Square
The Bells at Temple Square is a handbell choir consisting of 32 musicians; it has enhanced the concerts and recordings of The Tabernacle Choir since being organized in 2005. Prior to its formation, the Choir borrowed handbells to capture the distinctive complement to the music that only bells can provide. It became evident that a handbell choir should be established, and the Choir eventually received a donation to enable the purchase of a 7-octave set of English handbells, a 6-1/2-octave set of handbells, and two 6-octave sets of hand chimes.
Organists at Temple Square
Known for bringing exceptional talent and flare to iconic Temple Square organs, the three full-time and two part-time organists at Temple Square offer the perfect accompanying sound to the Choir's voices. Each are masters at coordinating the 11,623-pipe Tabernacle organ and the 7,708-pipe Conference Center organ. These organists also continue the 100-year-old legacy of daily recitals on Temple Square and support the Choir in its rehearsals and performances.