Setting an Example
January 2016
Siniteke "Teke" Fotu, a young woman from the Kingdom of Tonga, has big responsibilities and big plans for her life, and BYU-Hawaii has been a big part of fulfilling these plans. "I've seen the hand of the Lord helping me throughout my journey here to BYU-Hawaii," Teke says.
Setting an Example
As the oldest of 11 children, Teke has been the example for her younger siblings by finishing high school, serving a full-time mission, and attending college. "My parents always said to me, 'You are the oldest, so you be the one to set the example for the rest. If you go in the right path, everyone will follow,'" Teke remembers.
But BYU-Hawaii was not always where Teke hoped she would go to school. After completing her mission in Ohio, she wanted to go to school in Australia and interact with nonmembers. Then she remembered something her mission president told her. "If you want to strengthen your testimony and remember your mission experience," he said, "then BYU-Hawaii is the best school for you." Teke prayed about where she should go, and she received a strong impression that she should attend BYU-Hawaii. "I know that this is where the Lord wanted me to come," she says. "BYU-Hawaii has helped me a lot, especially with my testimony."
True to her parents' hopes, Teke's example is blessing the rest of her family. One brother, who had told his parents he did not want to serve a full-time mission, changed his mind because of Teke's example. Now Teke's two oldest siblings are currently serving missions and plan to attend BYU-Hawaii when they return, and the next two oldest are preparing to serve missions.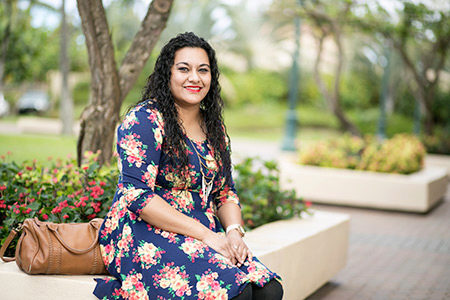 Following Her Heart
When Teke arrived at BYU-Hawaii, she chose to major in business because that is what most students in Tonga study. She quickly learned, however, that she was not interested in business. She was drawn to people and their diverse cultures and backgrounds. "I love to talk, to interact with people, especially with foreign people," Teke says. "I just love to get to know them."
A friend introduced Teke to a major that better fit her interests: international cultural studies. She made the switch, and the new classes were difficult at first. There was a lot of reading, writing, and speaking. Her love for different cultures motivated her to stick with it, and in time she improved her English-language proficiency and increased her confidence.
Relating with Others
Teke's decision to change majors led to a change in her career goals. Now she plans to return to Tonga and work in government, where she hopes to become an ambassador of Tongan culture.
"I want to interact with different cultures," Teke says. "I can take that home and help people. . . . There are a lot of foreign people coming over to Tonga, especially Asian people. When they come to Tonga, I can relate to them, . . . and I can help with marketing Tonga to other countries, because tourism is one of our main incomes."
Thanking IWORK
Teke attributes her wonderful experience at BYU-Hawaii to IWORK, the university's work-study financial aid program for international students.
"Without the IWORK program, I wouldn't be here," Teke says. "My dad is a local farmer, and my mom is a stay-at-home mom with a little private store. It's not a lot of income for our large family, so the IWORK program really helped me come here."
Generous donors fund 90 percent of the IWORK program. Their support helps hundreds of students like Teke come to BYU-Hawaii, where they are blessed with an academic and spiritual education. Oftentimes, as it is with Teke, those blessings extend to their families, their communities, and the Church around the world.
Give to BYU–Hawaii