Opening Doors of Opportunity
September 2015
When RJ Gualberto was a young boy in the Philippines, he admired artwork in the Church's Ensign and Liahona magazines. "The magazines inspired me to learn more about art," RJ recalls. "I wanted to be one of those people who paint and draw for the Church." He was especially impressed by a drawing of President Gordon B. Hinckley, which he imitated in his sketchbook.
Art became a big part of RJ's life. He imitated other artwork, read about art, and painted pictures of his family and friends. But opportunities to formally study art were limited in the Philippines. After high school RJ chose a different field of study, but his heart was not in it.
Then he learned about the art program at Brigham Young University-Hawaii and about IWORK, the work-study financial-aid program that would make it possible for him to attend. "I think the Lord blessed me to meet the right people who led me to apply and be accepted to BYU-Hawaii," he says. "Being in the IWORK program was really a great blessing because without it I wouldn't have been able to attend BYU-Hawaii and study what I love."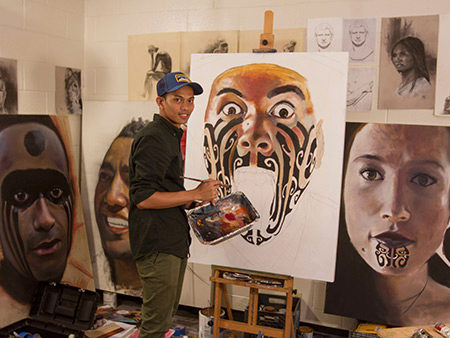 Pursuing His Passion
RJ thrived as a full-time art student at BYU-Hawaii. He was finally able to fully pursue his passion, explore his interests, and develop his innate artistic talent. "Being at BYU-Hawaii really opened my imagination and my mind to the possibilities of being an artist," RJ says. "It made me expand my goals and gave me opportunities to stretch my skills."
During RJ's first year at BYU-Hawaii, one of his professors told him that his style was similar to that of a Utah-based artist named William Whitaker. After reading about Whitaker and his artwork, RJ contacted the artist and requested to intern with him, and Whitaker agreed.
While working in Whitaker's studio, RJ saw the drawing of President Hinckley that he had admired as a boy and realized that Whitaker was the artist who had inspired him all those years ago.
While in Utah RJ also had the opportunity to meet and study with other professional artists: "It was a dream come true to study with people that I admired. Being at BYU-Hawaii opened doors for me to meet real working artists that I looked up to. They were my heroes back when I was still in the Philippines, and I was able to work hand in hand with them."
RJ's opportunities did not end with his internship in Utah. Because of his newly formed connections, he applied for and was accepted into an intensive program at the prestigious Studio Escalier in Paris. There he learned under the tutelage of artists with a pedigree of apprenticeship going back to Michelangelo, Bernini, and da Vinci.
"Looking back to where I started - just copying pictures from Church magazines and reading books about the masters - it's really amazing to see and realize that doors are opening for me to experience these things and learn from these people in this kind of environment," RJ says. "When I was in the Philippines, I didn't imagine that I would have these opportunities. But I know that God is blessing me with all these opportunities, and I'm realizing the blessing of studying at BYU-Hawaii."
Why Art?
Before going to BYU-Hawaii, RJ felt pressure to pursue a more practical career, but he saw himself as an artist and chose to follow his passion. "Going to BYU-Hawaii made me realize that God is helping me throughout every step, and knowing that His hand is in my life helps me realize that I have to continue doing what I love," he says.
For RJ art is a way of expressing himself and making a statement to the world: "I see my paintings as manifestations of my relationship with people that are close to me or people that inspire me. And I see that as my contribution to the community."
RJ also recognizes that his artistic talent is a gift from God and feels that it is a way for him to draw nearer to Jesus Christ and bear testimony of Him. "I want to show the world by way of visual art how Jesus Christ lived his life," RJ explains. "A painting about a scripture verse opens our imagination about what's going on in the scriptures."
Seeing His Future in His Past
Now that RJ has completed the program in Paris, he is pursuing a master of fine arts degree at the New York Academy of Art. With all the doors that have been opened for him, RJ intends to return home to the Philippines and give back to his community.
"Learning how to paint and mastering my passion would be pointless if I didn't share it," he says. "My goal is to go back to the Philippines and teach young aspiring artists that don't have the encouragement to continue with their passion."
A Grateful Heart
RJ recognizes God's hand in his life, and he knows that his many opportunities began with the IWORK scholarship that made it possible for him to attend BYU–Hawaii.
"Being in the IWORK program was really a great blessing," he says. "It really opened a lot of doors in my life, and now I feel like I am ready to face the world and give back to the community where I came from." 
Make a Gift