Weak Things Become Strong
May 2016
From the Book of Mormon we learn that the Lord can "make weak things become strong" (Ether 12:27). That was the case for Kazuyuki Kameya, a BYU-Hawaii student from Japan. Now his weakness-turned-strength is giving him new choices and opportunities for his life.
Bottom Ten to Top Five
Kazu has been a member of The Church of Jesus Christ of Latter-day Saints his whole life. Although he was raised in a supportive, faith-promoting home environment, he encountered challenges growing up as a Latter-day Saint in Japan. As the only Mormon in his school, Kazu had a hard time relating to his friends, and his faith was often tested. So when he heard about BYU-Hawaii, he liked the idea of attending a Church school where he could study in a spiritual environment and have classmates who share his beliefs.
But there was one problem: Kazu struggled with learning English. "When I was in high school my English grade was not good," Kazu says. "Out of 340 students, my English grade ranked in the bottom ten. I liked the sound of English, but we didn't speak English in class; we just learned grammar, writing, and reading. I got bored. Sometimes I slept in class."
One of Kazu's church leaders encouraged Kazu to attend a meeting about BYU-Hawaii. Kazu liked what he heard, and his interest grew into excitement and yearning. From that day forward, he was motivated to learn English. "Before then, English was just a class," he says. "After that, I was motivated to study English in order to attend BYU-Hawaii and expand my options for my future."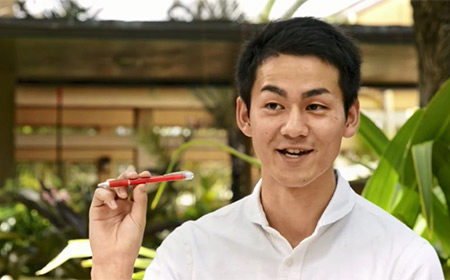 At that meeting Kazu received a BYU-Hawaii pen, and that pen became a symbol of his motivation. "I just wrote and wrote English words and practiced saying them correctly," he says. "One or two months later I ran out of ink. After one year my English grade ranked in the top five - from bottom ten to top five. I found my potential, and I decided to go to BYU-Hawaii."
New Challenges and New Opportunities
Kazu is now at BYU-Hawaii studying accounting, and he is continuing to improve his English. BYU-Hawaii has one of the oldest and most respected programs for teaching English to speakers of other languages. The university also has a new Center for English Language Learning that helps students like Kazu increase their language proficiency throughout their time on campus.
Kazu is also learning and growing at the Polynesian Cultural Center, where he works as a tour guide. "My job is to guide a group of 20 to 30 people every day and to communicate with each person and entertain them," he says. "That was a new challenge for me, and I think I have learned a lot by going out and talking to people."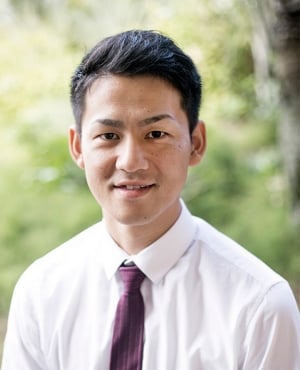 Kazu's hard work to develop his English and communication skills is paying off. In 2014 he attended the Boston Career Forum - the world's largest job fair for students who are bilingual in Japanese and English - where he interviewed with 18 companies. One of those companies, Ernst & Young, offered him a job once he graduates.
Hard Work Plus Helping Hands
Kazu has worked hard and achieved much, but as far as he is concerned, the donors who fund his BYU-Hawaii scholarships make it all possible: "Their financial support allows me to choose things that I could not do without them. Now my possibilities and options are wide open, and I'm really grateful for that."
"I really feel strongly that I was guided here," says Kazu. "I wasn't good at English, and I hadn't thought about studying in America. But as I was thinking about my future I learned about BYU-Hawaii, and thanks to the Church and to donors who support students like me I was given this opportunity. Everything was prepared for me, and I am so grateful for this experience."