Finding a Way and Forging a Path for Others to Follow
May 2015
Battsengel "Battsey" Chagdgaa, a Brigham Young University-Hawaii student from Mongolia, is grateful for the assistance that enabled her to attend BYU-Hawaii, and although she hasn't finished her education yet, she is already thinking about ways she can give back.
"Even before I joined the Church and knew about the gospel, I had seen God's hand in my life," Battsey says. "I think God provided the ways for me, through many great and generous people, to come here and study."
Her path to BYU-Hawaii began with the university's online learning program and culminated with IWORK. Now she is following the example set by BYU-Hawaii alumni before her by serving her fellow Mongolians and preparing to strengthen her family and community.
Nurturing a Dream
Battsey joined the Church when she was a teenager, and she thanks her mom for leading her family to the gospel. After her conversion, Battsey met people going to BYU-Hawaii, and she thought it would be great to attend someday. However, after graduating from high school, she could not afford to go to college in her own country, let alone in the United States. Attending university is expensive, and because Battsey is the youngest child in a family of ten, her parents could not afford to send her. Additionally, students in Mongolia struggle to find jobs that pay enough for them to fund their education.
Then Battsey decided to serve a full-time mission. As a missionary she received her patriarchal blessing, which promised her that when she completed her mission, she would receive the education she would need for her future. After she returned home, however, money was still tight, and she was uncertain about her future. Because of the love she has for her mother, Battsey was tempted to stay home and support her family, but she eventually realized that gaining an education would make her more valuable and better able to assist her family and help build a healthier environment for her community.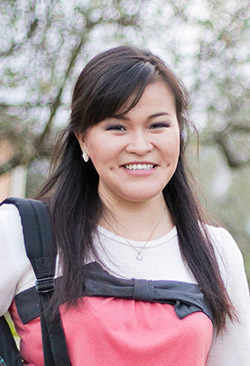 The Lord Provides a Way
Once Battsey was resolved to continue her education in spite of the obstacles she faced, the Lord provided a way - or two ways, to be exact.
First, one of Battsey's friends introduced her to BYU-Hawaii's online learning program, and Battsey began taking English classes to build on the language skills she had learned as a missionary. She also took entrepreneurship classes that taught her how to set goals, progress step-by-step, and move forward in her education and career.
While taking online classes, Battsey learned about another BYU-Hawaii program that would be a game changer: IWORK, a work-study financial aid program that provides international students with tuition, room, and board through employment opportunities, grants, and forgivable loans.
The IWORK program enabled Battsey to finally become a full-time student and attend BYU-Hawaii. She is studying accounting as well as hospitality and tourism management while holding down a part-time job at the Polynesian Cultural Center (PCC). One might think that balancing work and classes would be too much, but for Battsey it has been a great blessing. "It helps me to focus on my studies instead of thinking about my financial problems," she says.
Furthermore, Battsey's job has been an education in itself. She has been working as an accountant clerk at PCC, applying the things she is learning in the classroom and gaining experience in her field.
Battsey's time at BYU-Hawaii has also helped her grow as a person. In high school she was shy, she says, but "after I came here, I realized I have been given so much opportunity, and I should grow as much as possible. I always look for new things, new opportunities. Coming here helped me to realize I have to push myself to learn as much as possible."
Enter to Learn, Go Forth to Serve
Battsey thinks back to when she was a youth and saw the great examples of BYU-Hawaii alumni who returned to Mongolia to serve, and now she wants to be one of them - although she is not waiting until she gets home. Between classes and work, Battsey serves as an online mentor for students in Mongolia and as president of the Mongolian Student Association on campus. "I look forward to working with the Mongolian students and helping them as much as I can," she says, "because I know that when I get back home and when they get back home, the knowledge and experience we got here will help us to support other Mongolians. Little things can be great blessings."
For example, Battsey wants to assist students in Mongolia who struggle to find work that pays enough to fund their education - the way she has been blessed to work at PCC through the IWORK program. She wants to return to Mongolia and build a business, such as a restaurant or a hotel, that will provide job opportunities for students to aid them through school. "I am praying for it, and hopefully it will work out," she says. "And as I help the students back home, it's helping the country to grow."
Thank You
"I often think about the generous and kind people who donate their money to the IWORK and online programs, because without their support and their help, I wouldn't be here," Battsey says. "I often feel their love and include them in my prayers, and I am looking forward to continuing their work after I graduate by helping the students back home."
Make a Gift