Serving on the Front Line
June 2022
BYU–Hawaii alum Kalolaine Finau hasn't seen her family in Tonga since 2018. While she was a student, the island nation sealed its borders to stay safe from the pandemic. So Kalo joined the frontline fight against COVID-19 in Hawaii to help protect her proxy family: the students and staff of the university.
Kalo was interested in biology from a young age, and her parents encouraged her to pursue her passion in college. "You need to make a better life," they would tell her.
But Kalo's parents—a taxi driver and an artisan—couldn't afford to send her to college. Luckily, when Kalo was accepted to BYU–Hawaii, she was also accepted into the donor-funded IWORK program, which gives comprehensive financial aid to international students.
Kalo majored in biology with an emphasis in biomedical science. Her first job as an IWORK student was with the luau at the Polynesian Cultural Center, but she wanted work that was relevant to her major. So when the pandemic struck, Kalo applied to work with Nomi Health, the company that provided COVID testing on campus.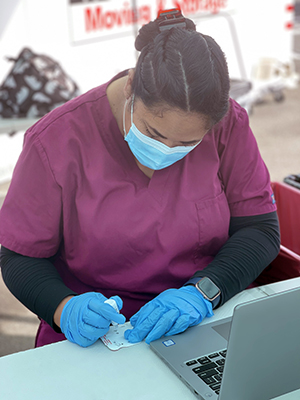 "Despite family tragedy striking and a volcano eruption rocking her home country, Kalo continued to care for those in need with a smile on her face," says a rep from Kalo's employer, Nomi Health. "That's who she is: selfless and poised to do great things when she returns to Tonga."
On a busy day, Kalo would test upwards of 400 patients while also staffing the call center and conducting contact tracing. The work was challenging but also rewarding, giving Kalo real-world experience in public health administration.
After graduating in April 2021, Kalo transferred to a Nomi location in Utah, where she will pursue a master of public health from BYU beginning in fall 2022. Her ultimate plan is to return home to Tonga, where her compassion and her training in public health will be a tremendous blessing to her country. And as the first person in her family to attend college, she will be an example and a strength to those around her.
"BYU–Hawaii helped me know how to stand up," says Kalo. "In my first semester, I was thinking about myself. When I graduated, I was able to see a bigger picture. I am ready to be more independent and to help other people."
Kalo's journey wouldn't have been possible without the donors who helped fund her education at BYU–Hawaii.
"I appreciate your love and your support for us students. You're not only helping one student, you're helping a generation. It won't be just me attending school—it will be my children and my children's children."

- Kalolaine Finau