A Life of Service, A Legacy of Faith
January 2023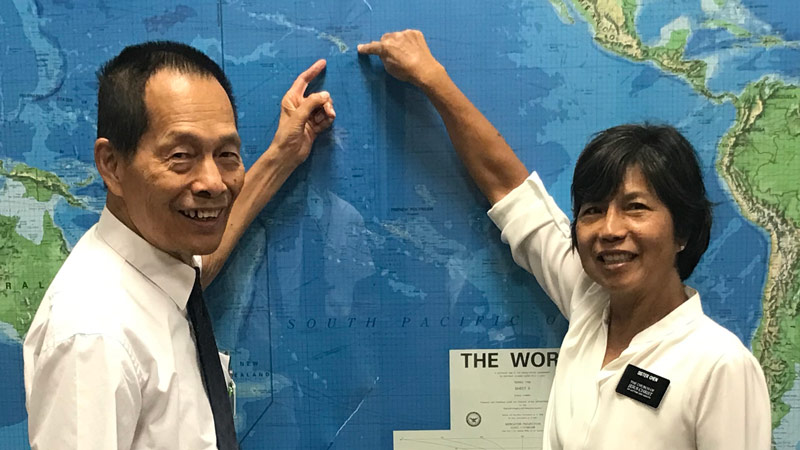 "We love to serve," says Sister Chen Mei-Yu, a senior missionary in the Hawaii Honolulu Mission. While that's a common sentiment, it's an understatement for Sister Chen and her husband, Elder Chen Yung-Chu, who are currently serving their eighth full-time mission.
Sister Chen serves as a health advisor and helps keep the 115 young missionaries healthy; Elder Chen serves in member and leader support and helps with family history work. Both are from Taiwan, but their mission to Hawaii is a happy return to a place they previously called home.
Pioneers in Taiwan
Elder Chen joined The Church of Jesus Christ of Latter-day Saints as a young man in the early 1960s while he and his brother worked on the crew that built the Church's first chapel in Taiwan.
Elder Chen later wanted to serve a full-time mission. After praying to be chosen to serve the Lord, he received a call to the Southern Far East Mission. The mission included Taiwan, which made Elder Chen the first Latter-day Saint who was born in Taiwan to serve a full-time mission in his home country.
During his mission, he heard about a Church-owned university in Hawaii. With the help of his mission president, he applied and was accepted to the Church College of Hawaii (now BYU–Hawaii).
While a student, Elder Chen returned to Taiwan to conduct research and met Sister Chen, who was serving in the Taiwan Taipei Mission as the first Chinese health missionary. After she completed her mission, the two married, moved to Hawaii, and were sealed in the Laie Hawaii Temple.
Lasting Love for BYU–Hawaii
While Elder Chen finished his bachelor's degree at BYU–Hawaii, Sister Chen, who had graduated from nursing school in Taiwan, took classes to improve her English.
"We loved BYU–Hawaii," says Sister Chen. "We felt belonging. We felt a strong connection. We had very good spiritual experiences there. We grew so much from that school."
Elder Chen adds, "We loved Hawaii so much that we hesitated to move." But his career path took them to Salt Lake City, where he earned a master's degree in social work from the University of Utah and began working for LDS Social Services (now Family Services).
Much to the Chens' delight, LDS Social Services asked Elder Chen to relocate to Hawaii. "It was an easy decision," says Sister Chen. "Moving back to Hawaii felt like going home." And Elder Chen was able to volunteer as an internship coordinator for BYU–Hawaii's social work program.
The Chens lived in Hawaii for an additional five years before they were called to serve in the Taiwan Taipei Mission, becoming the first Chinese mission president and companion. Afterward they moved back to Utah, but BYU–Hawaii left such an indelible impression that it was never far from their hearts.
"This school has the power to change people's lives," says Sister Chen. "When I first came to Laie, I knew very little. I grew a lot spiritually and in my knowledge of the gospel. The faith we developed at BYU–Hawaii is the foundation that helped us grow."
Giving Back
When the Chens sold an investment property, they decided to use some of the money to support students at BYU–Hawaii. "Since we were beneficiaries of support when we were in school, we wanted to help other students," Sister Chen explains. "I love to see students grow stronger and to spread the gospel."
With guidance they received from the Philanthropies Department of the Church, the Chens established a family trust to make donations to BYU–Hawaii. And with their family trust, the Chens and their four children became members of the Matthew Cowley Society, which comprises people who have included BYU–Hawaii in their estate plan.
"When we give, we receive a lot in return," says Sister Chen. "Heavenly Father blessed us a lot because of our desire to help other people and donate what we can. The blessings we have received are a hundred times more. And when we help 'the least of these,'" she adds, quoting Matthew 25:40, "we are doing what the Lord wants us to do."
To learn about how you can make a planned gift to BYU–Hawaii, email us, visit our web page, or call 1-877-650-5377.