A Wounded Healer
June 2023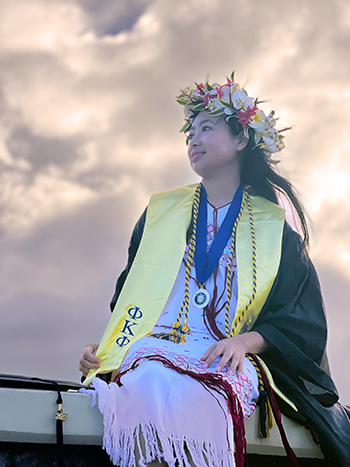 BYU–Hawaii alum Naw Eh Htoo "Cindy" Shee started college back home in Myanmar—that is, until her family fled the country to escape political violence, economic ruin, and ethnic strife.
"The country is very poor," says Cindy. "It's hard to find a good job." Cindy and her older sister began working after high school to help their family make ends meet, but life was still difficult. Cindy's father left for Thailand to find a better job, and the rest of the family later joined him.
The Shees made a new home in a refugee camp on the Myanmar–Thailand border. Since Cindy had some college training, she was able to find a job teaching at a school for refugee and migrant children. Although Cindy's life in the camp wasn't easy, she witnessed even greater suffering among those she served. "I observed many unfortunate people with difficult life situations," she says. "Some are the victims of war, others are from broken families, and all have financial problems."
Cindy's experiences as a refugee serving other refugees inspired her to pursue a career in social work. She heard about BYU–Hawaii while serving a mission in Hong Kong, and the university's donor-funded IWORK program enabled her to attend.
"I want to serve refugees and migrant people in the United States. I will look for opportunities to serve the Myanmar community as a social worker."
Compared to her education in Myanmar, Cindy's experience at BYU–Hawaii was night and day. In Myanmar, explains Cindy, students with money pay teachers on the side for extra help and resources. Since Cindy couldn't afford to pay extra, she wasn't treated equally and was often left behind.
At BYU–Hawaii, however, "everybody loves and supports each other," she says. "Professors are very supportive and understanding, especially of international students. Classmates help each other. It feels like family."
Cindy continues: "It has been a great opportunity for me to study here. It would have been impossible without donors and the IWORK program. I appreciate all you have done for me. And because of it, I am sure that I will be a great help for the Church, my community, and the people of Myanmar."
Cindy graduated summa cum laude in December 2022. Following graduation, Cindy interned with Nudj Health, an online healthcare company, and she and her husband, who is also a refugee from Myanmar, had their first child. Cindy also plans to pursue a master's degree in social work.
Unfortunately, it is not safe for Cindy and her husband to return to Myanmar. "Even though I'm not going back to my home country yet, I have a desire to help my people," says Cindy. "I want to serve refugees and migrant people in the United States. I will look for opportunities to serve the Myanmar community as a social worker."