BYU–Hawaii President's Report
Together We Must Continue His Work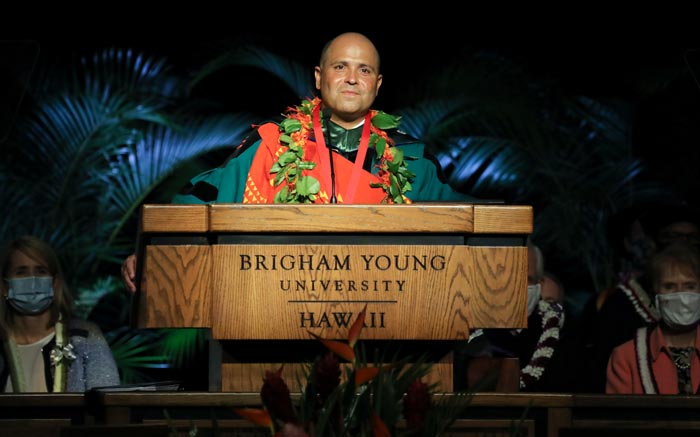 In October 2021, after more than 15 months at the helm, John S.K. Kauwe III was formally installed as the 11th president of BYU–Hawaii in a time-honored inauguration ceremony, presided over by Elder Jeffrey R. Holland.
This momentous occasion, an important milestone for any academic institution, was especially historic for BYU–Hawaii because President Kauwe is the first kānaka maoli (native Hawaiian) to serve as president. In the words of Elder Holland, "Today we install a son of Hawaii, and for me that may be the most significant indicator of the growth and maturity of this university of all the indicators that we are celebrating today."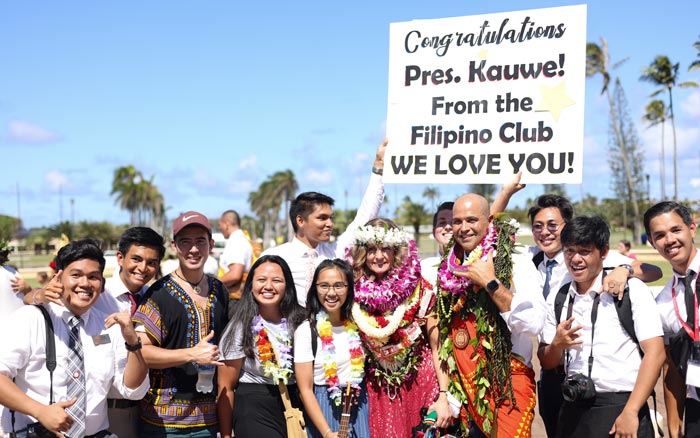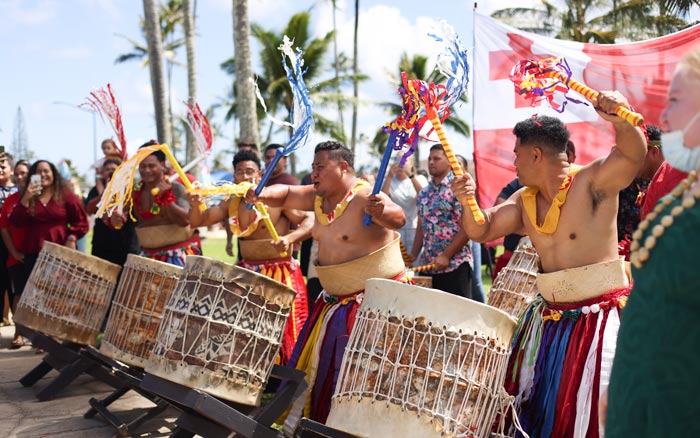 President Kauwe's inauguration was a day of academic and cultural pageantry, complete with a reverse parade (bottom right) that showcased the rich cultural traditions represented on campus and the love that the university community has for the Kauwes.
The Right Students
President Kauwe's vision for BYU–Hawaii came into sharp focus in his inaugural address, which centered on the theme of continuing the inspired work of the university. A principal part of that vision is a reinvigorated effort to bring the right students to BYU–Hawaii.
"The prophetic direction is clear," Kauwe said in his address. "BYU–Hawaii exists to serve a specific population—students from the Pacific Islands and Asia—as well as students who are concerned with improving the lives of those around them and serving others. . . . When we serve the students we have been directed to serve, they will lift and build the Church and their communities in the Pacific Islands and Asia. Their impact for good will spread across the globe and be felt for generations."
"When we serve the students we have been directed to serve, they will lift and build the Church and their communities in the Pacific Islands and Asia."

—President John S.K. Kauwe
In practice, this will mean shifting the demographics of the university, which is already known for being multinational, to include even more international students. It will also require the continued expansion of the IWORK program, which provides financial aid to international students.
"Every year we have qualified students from areas of the world that we've been asked to serve who stay home because they can't afford us and we can't afford them," Kauwe said on another occasion to university donors. "In order to address this, we need to have . . . a more efficient, more effective, and better-funded IWORK program."
Over the past year the university has directed resources and efforts toward finding and funding more international students. Additionally, donors have been and will continue to be critical to sustaining the growth of the IWORK program and bringing the right students to BYU–Hawaii.
The Right Experiences
President Kauwe also highlighted the university's renewed effort to provide students with the right experiences. "This university must offer programs and experiences that are specifically developed to serve the students and the people of the Pacific Islands and Asia," he said in his inaugural address.
Within the past year, the university has made significant progress in refining its academic and student life programs to better align with the needs of students from its target area. This has included a new minor in international relations and a plan to develop a major and minor in construction management.
President Kauwe illustrated the importance of the right students and experiences with an analogy to fruit. He spoke about the blackberries that grow around his home in Utah and explained that as much as he would like to grow blackberries at his new home in Hawaii, they are not well suited for the tropical climate. However, there are many delicious fruits that thrive in Hawaii, such as mango, papaya, guava, and liliko'i.
"Each institution in the Church Educational System represents a different part of the vineyard," he said. "Students and programs that thrive here in Laie may not succeed so readily in Provo or Rexburg. Likewise, students and programs that are thriving in those places may not do so here in Laie."
Onward and Upward
President Kauwe concluded his address with the familiar characterization of BYU–Hawaii as a Zion university and with an appeal to others to join him in the work.
"Like President John S. Tanner before me, I have seen the image of Zion itself in this school," he said. "The highest aspiration of our prophetic founders—the very will of God—is that this university will be a true place of Zion, a refuge for our students, a defense for this community, and a missionary factor to influence millions of people and thereby support the salvation of the children of men. I urge you to prayerfully ponder how you can fulfill your role in this important effort. Together we will continue this work—and we will succeed."
"The great work of BYU–Hawaii is still ahead of us . . . [and] will demand the very best of us."

—Elder Jeffery R. Holland
Following President Kauwe, Elder Holland closed the ceremony with a stirring sermon that reinforced the prophetic mission of BYU–Hawaii, added an air of urgency to the work that lies ahead, and endorsed President Kauwe as the right man to take the university to new heights.
"We need to do all we have done in the past, but do it better, for more students, in less time," Elder Holland said. "The great work of BYU–Hawaii is still ahead of us . . . [and] will demand the very best of us. It will demand the very best of [President] Kauwe. We have looked far and wide to find the very best to lead out in this next chapter of the quest. We found him, . . . [and] we have asked him to step forward . . . to build to maturity a corner of the kingdom of heaven right here in Laie."
Click here to watch and read the speeches from the inauguration.
Other President's Report Articles