A Samoan Scientist? You Bet.
January 2021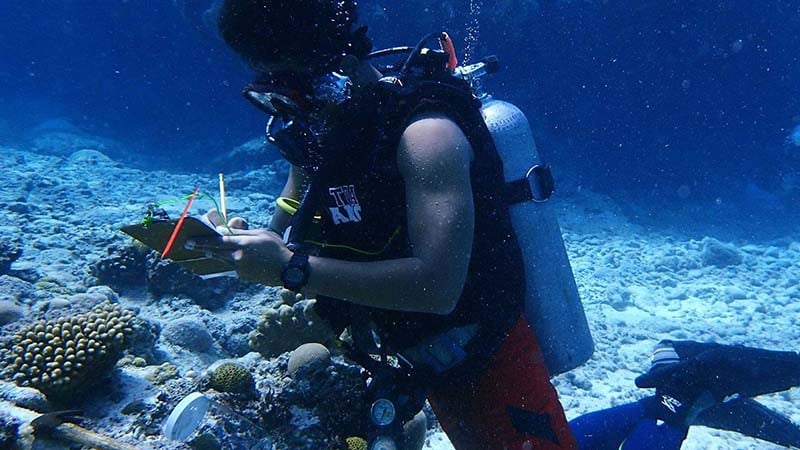 When Tava'ilau "Stau" Segi first began studying marine biology at BYU-Hawaii, he was the only Polynesian student in the program and one of just a few majoring in any of the sciences. "When I told some of my Polynesian friends that I was taking marine biology, they said, 'You better change it. You better change it early because you might end up changing it later.' They said it was really hard."
Science is not a popular subject among Polynesian students, explains Stau, who is from Samoa. Apart from the subject's difficulty level, he thinks it's because there is a lack of role models. "There aren't a lot of scientists in Samoa, so the younger generations don't see that as a career," he says. But Stau is hoping to help change that.
Flipping the Script
"The ocean was my life," Stau says about growing up in Samoa. "We went to the ocean every day to swim, and I was always fascinated with how it worked."
Stau's passion for the ocean was nurtured by his father, who would often take him fishing. "My dad knows the ocean very well," says Stau. "He knows the ecology of it. If he had gone to school, I feel like he would have gotten a PhD in marine biology."
Stau's father didn't go to college, but he wanted his children to have that opportunity. So he moved the family from a rural part of Samoa to the capital city of Apia and began working as a taxi driver so he could send his children to good schools.
With support and encouragement from his father and help from the donor-funded IWORK program, Stau came to BYU-Hawaii to parlay his passion for the ocean into a degree. But it wasn't easy.
"I was very behind in science when I came to BYU-Hawaii," says Stau. "I didn't know a lot, especially in lab work. I felt like all the other students knew how to use the equipment, and I had no idea. I was lucky enough to have good friends who helped me a lot." With help, hard work, and persistence, Stau graduated from BYU-Hawaii in 2017.
And he didn't stop there. He is now pursuing a PhD in conservation biology at BYU in Provo. When he returns home, he plans to apply his expertise both to help conserve Samoa's environment and also to foster an interest in science among Samoa's youth.
Conserving Coral Reefs
One of the highlights of Stau's time at BYU-Hawaii was doing field research off the shores of Saipan. There he studied the symbiotic relationship between a type of coral and a guardian crab that protects the coral from predators. From that experience, Stau developed a keen interest in conservation and a desire to extend his research to Samoa.
Samoa's coral reefs face environmental pressures that are changing the marine ecosystem and threatening livelihoods. "Where I grew up, there was a fringing reef and a nice beach," says Stau. "But now there is no beach. It's covered in rocks because the sand is eroded from sea level rise. And because of climate change and overfishing, we see less fish and smaller fish. Corals are dying and being replaced by algae because the water is getting warmer, and fish are leaving so there is nothing to control the growth of the algae."
For his PhD, Stau is researching methods to conserve and restore coral reefs in Samoa. He is seeking to better understand the delicate balance among marine life and to discover the varieties and combinations of fish and coral that will promote a healthy ecosystem. He is also mapping the waters around Samoa and identifying areas that have the most need and best conditions for coral restoration efforts.
Stau is basing his research on similar work that has been done in Fiji, but he is the first one to pursue this kind of environmental remediation in Samoa. Once he completes his research, he hopes to work with the Samoan government to develop and enact a plan to conserve and restore Samoa's marine ecology. It could take six to nine years before they begin to see results, says Stau, but he is optimistic that he can make a positive impact for his islands and his people.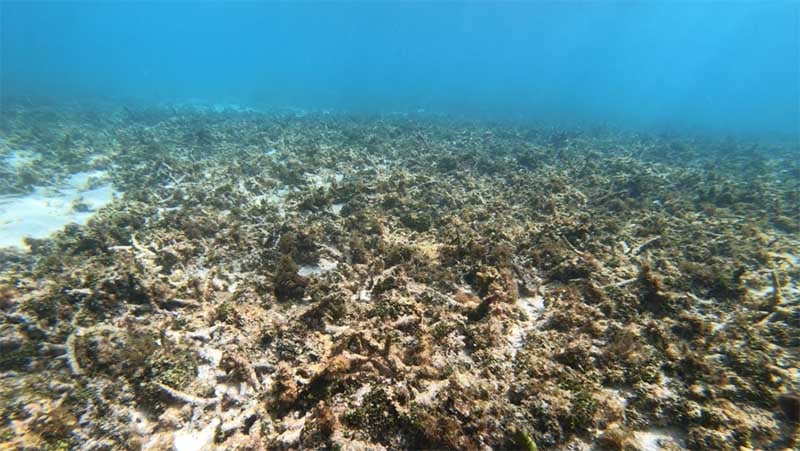 Samoa's coral reefs face environmental pressures that are changing the marine ecosystem and threatening livelihoods. With his research, BYU-Hawaii alum Stau Segi hopes to help Samoa conserve and restore its marine ecology.
Strength in Diversity
Just as diversity is important for a healthy coral reef, the diversity of students at BYU-Hawaii was important for Stau's education and his plans for the future.
"I had all these friends in marine biology from the States who helped me along the way," says Stau. "And I made friends from countries all over the world. It's so easy to build a network at BYU-Hawaii because I know people from different places. They're doing great work in their countries, and I can easily build a network to spread my work and benefit other islands."
Stau has already talked to fellow alum Eritai Kateibwi, who is developing hydroponics and other sustainability projects in Kiribati. Together they hope to take coral conservation to nations throughout the Pacific Islands.
As for student diversity in the sciences, Stau thinks that having Dr. John Kauwe, a Native Hawaiian scientist, as president of BYU-Hawaii will inspire more Polynesians to pursue careers in science. And Stau hopes to inspire them too.
Thanks to You
Like every IWORK student at BYU-Hawaii, Stau has had life-changing experiences that would not have been possible without the generous support of donors.
"If it weren't for the IWORK scholarship, I couldn't have gone to BYU-Hawaii," says Stau. "I'm very grateful for donor support - not only for me but also my family and friends in Samoa and others in the Pacific Islands. They look at what I'm doing and want to follow. I can see the great impact of what donors do for the islands."