BYU-Pathway Legacy Society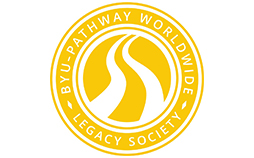 The BYU-Pathway Worldwide Legacy Society has been created for generous donors to serve deserving students later. Simply put, in arranging a planned gift now, you are helping BYU- Pathway Worldwide, its programs and its students later.
So, what is planned giving? Planned giving, also known as deferred giving, is a living donor's legal arrangement to remember a nonprofit organization in their estate planning .Those programs that you feel passionate about currently, will be able to maintain their effectiveness in the future through your will, trust, gift annuity, retirement account or life insurance policy, among others.
Planned gifts are vital to BYU-Pathway Worldwide's mission to "develop disciples of Jesus Christ who are leaders in their homes, the Church and their communities." The BYU-Pathway Worldwide Legacy Society is an opportunity for you to continue your support and development of those leaders when you are no longer here.
The BYU-Pathway Worldwide Legacy Society is open to anyone. There is no minimum gift amount required to join nor are there associated costs. Members will be invited to annual BYU-Pathway Worldwide gatherings, starting in 2021. We would love to have you be part of our first group of wonderful donors.
If you have already remembered BYU-Pathway Worldwide or have questions, please contact Gift Planning Services at (877) 650-5377 or email legacy@churchofjesuschrist.org for assistance.