This Place Is Our Promised Land
August 2021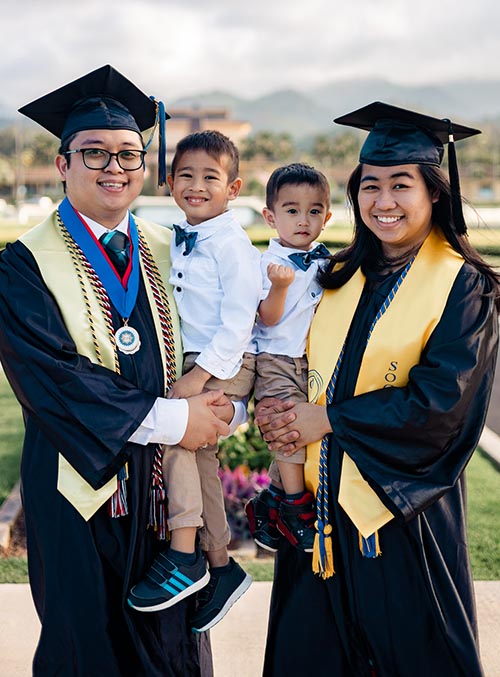 "We made it!" exclaimed Terrence Dela Peña during his speech at BYU–Hawaii's winter 2021 commencement. Given his audience, you might think the new BYU–Hawaii alum was talking about his fellow graduates. But he wasn't. He was talking about his mother and two sisters, who helped make it possible for him to gain an education.
Raised in the Philippines by their single mother, Terrence and his sisters couldn't afford to go to college—until Terrence's sisters chose to work and help pay Terrence's way at a local university. "If I can get an education, then I will be able to help my family get out of poverty," says Terrence. "They believed in me, they trusted in me, and that motivated me to study hard."
When Terrence decided to serve a full-time mission for The Church of Jesus Christ of Latter-day Saints, he had to pull out of college and give up scholarships and financial aid. After returning home he married Ana Katrina and began working to earn money to return to college. However, he ended up needing to use his savings on medical care when Ana Katrina experienced a difficult pregnancy and their son was born premature.
"Thank you for being the hand of the Lord to change our lives. This place is indeed our promised land. No words can describe the joy that we have. Our family will always be grateful for your support. Mahalo!"
Terrence never lost sight of his goal to return to college, and he prayed for a way. The answer came when both he and his wife were accepted to BYU–Hawaii through the donor-funded IWORK program. "We were given a wonderful opportunity to gain an education, work part-time to provide for our needs, and raise our little family," he says.
Terrence Dela Peña honored his mother and sisters during his commencement speech. "Today is the fulfillment of my mother's dream and the fruit of my sisters' sacrifices for me. I want to take this opportunity to honor [them]. We made it!"
Being a student and a parent while working part-time wasn't easy, but Terrence worked hard and continued to draw motivation from his family. "Whenever I took an exam or quiz, I always thought I was doing it for my family and that their future was at stake," he says. "It helped me find inspiration and never give up."
Terrence's diligence paid off. During his time at BYU–Hawaii, he was consistently on the dean's list; he served as president of the Prelaw Society and the chapter of Pi Sigma Alpha; he was inducted into Phi Kappa Phi; and he graduated summa cum laude with a degree in political science.
The icing on the cake was being chosen as the student speaker for commencement. "Looking back, I have witnessed how our Father in Heaven has been in the details of my life," Terrence said in his speech. "Today is the fulfillment of my mother's dream and the fruit of my sisters' sacrifices for me."
The Dela Peñas are tremendously grateful for the donors who fund the IWORK program that made it possible for them to attend BYU–Hawaii. "Thank you for being the hand of the Lord to change our lives," they wrote in a letter. "This place is indeed our promised land. No words can describe the joy that we have. Our family will always be grateful for your support. Mahalo!"