From Surviving to Thriving
February 2022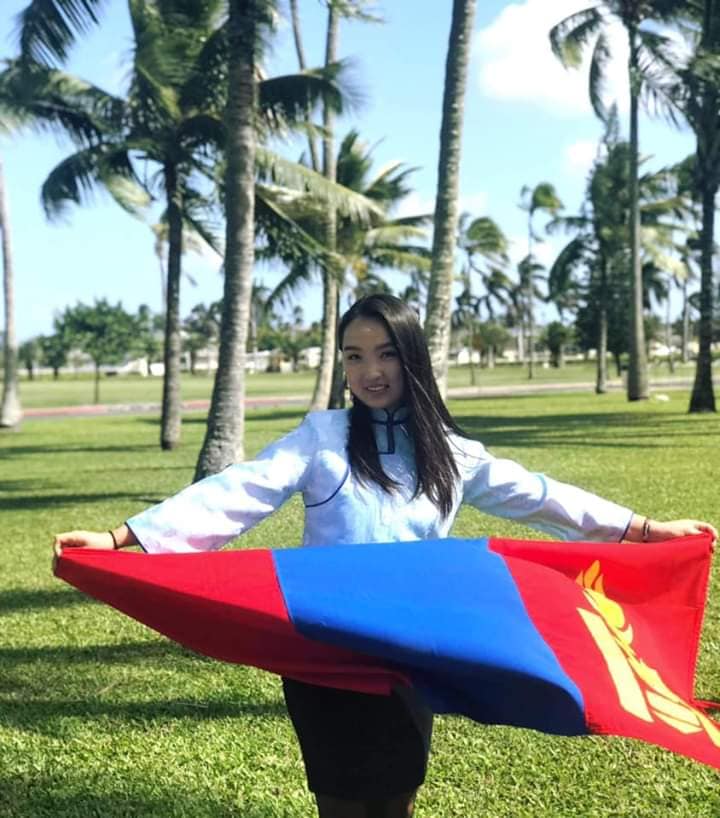 When asked why she started a business selling men's neckties, BYU–Hawaii student Tsetsgee "Flora" Enkhbold made a telling observation about the difference between entrepreneurship in America and in her home country of Mongolia.
"In America, a lot of people quit their job to start a business," Flora says. "I see that as kind of a luxury. Back home in Mongolia, you start a business . . . to be able to survive, to be able to feed your family."
That's what Flora's parents did to provide for their family. And now, as a junior studying entrepreneurship, Flora is working to elevate her mother's business from surviving to thriving.
Sewing to Survive
Flora was born in the Mongolian countryside to a family of nomadic herders. When she was three years old, her father moved the family to the capital city of Ulaanbaatar with the hope of building a better life.
Like many nomads who move to the city, Flora's family settled in what is called a ger district. Gers (or yurts) are tent-like houses made of latticed wooden frames covered with felt. They are meant to be portable, but erstwhile nomads in Ulaanbaatar set up their gers permanently to form makeshift communities in the outskirts of the city.
Life in ger districts is difficult. There is no infrastructure for running water or electric heat. Instead, they fetch their water from local wells, and they use coal-burning stoves to stay warm in the winter. However, burning coal results in poor air quality and respiratory diseases. Then there's the social ills of poverty, alcoholism, and violence that are prevalent in the districts.
It was under these conditions that Flora's family scratched out a living. Her father opened a repair service to fix refrigerators, stoves, and other appliances, and her mother took on sewing work to help make ends meet while saving money to build a house.
When Flora was 10 years old, her family met missionaries and joined The Church of Jesus Christ of Latter-day Saints. A year later, the family took all the money they had saved for their house and used it to travel to the Hong Kong China Temple so they could be sealed together as a family. From then it took another four years before they saved up enough money again to build a house.
As time went on, Flora's mother's sewing business gained some new and unexpected customers: full-time missionaries. When elders found out about her sewing skills, they began asking if she could make them ties. "Not a lot of people wear ties in Mongolia," says Flora. "But missionaries would buy ties, as well as other things like backpacks and traditional Mongolian bags. That's how she got started doing ties."
Starting to Thrive
Flora first heard about BYU–Hawaii when she was 14 years old, and she made it her goal to attend. To prepare, she began taking online classes through the university's distance learning program while she was still in high school. "My parents never hesitated to pay for the online classes, even though it took a lot of sacrifice," says Flora. "They saw it as an amazing opportunity."
Flora took online classes throughout high school and for a year following graduation. After serving a full-time mission to the Utah Logan Mission, she applied and was accepted to BYU–Hawaii. But she wouldn't have been able to attend without help from the donor-funded IWORK program. "To be honest, I wouldn't have been able to go to any university, because it was too expensive for us," she says. "I see this as an amazing blessing."
"Thank you for giving hope and opportunity to all of us. Because sometimes opportunity is hard to find. And even when we see it, it's hard to grab it. What you have done and what you are doing is giving us the opportunity to change our future and hope for something better—for our countries and for ourselves."
Flora chose to study entrepreneurship at BYU–Hawaii — no surprise, considering she was raised by entrepreneurial parents. Furthermore, it's no surprise that within her first semester, Flora recognized an opportunity for developing a business to sell her mother's handcrafted ties in new markets. So with close mentorship from professors and entrepreneurs-in-residence at BYU–Hawaii's Willes Center for International Entrepreneurship, Flora launched her business: Oyo Ties.
"The teachers in the Willes Center helped me a lot," says Flora. "They helped me set up a website; they helped me with sales. One of the things I love most about BYU–Hawaii is the willingness of professors to be here and to help students. In the Willes Center, most of them have businesses other than being professors, and yet they want to be here. That means a lot to students."
By her second semester at BYU–Hawaii, Flora entered Oyo Ties in the university's Empower Your Dreams business competition and, as a freshman, took second place in her category. With the prize money, Flora helped her family back home and grew the sales side of the business in Hawaii.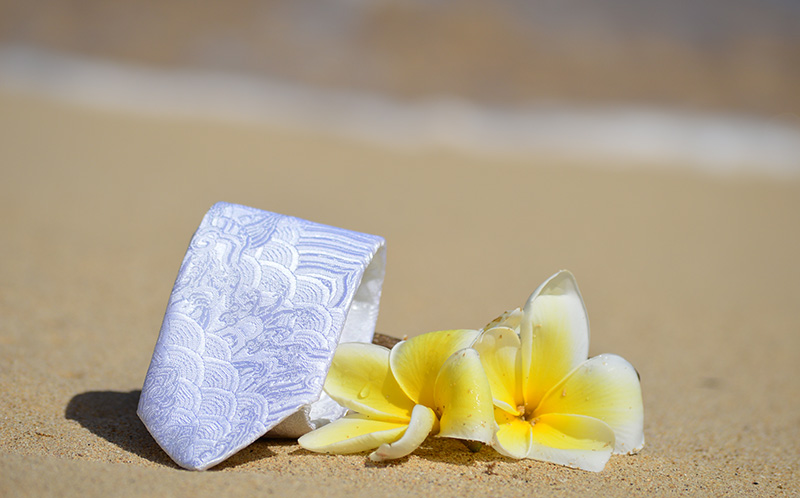 In her freshman year at BYU–Hawaii, Flora developed a business called Oyo Ties to sell her mother's handcrafted ties in new markets.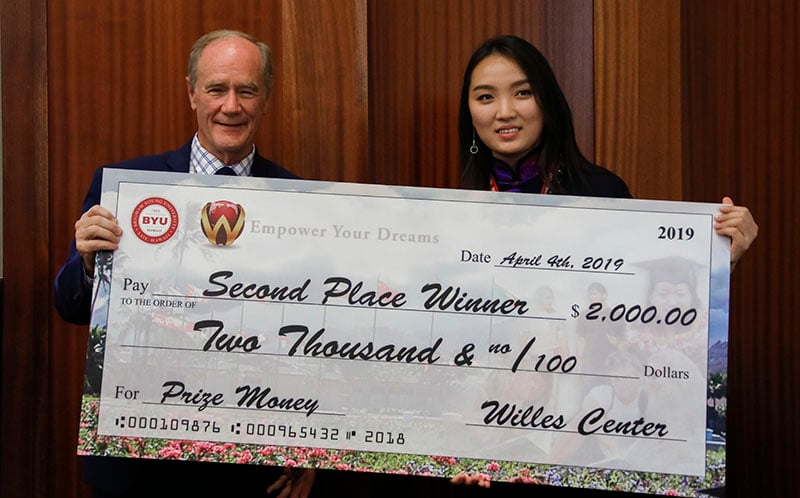 Oyo Ties took second place in BYU–Hawaii's Empower Your Dreams business competition, and Flora used the prize money to grow her business.
A Higher Purpose
Flora's goal for Oyo Ties is not just to find new markets. "Our goal in the long run is to be able to provide training and employment for women in Mongolia," she says, "especially for people from underprivileged communities, like my family." And they are on their way to that goal. Flora's mother is already training other women to help make ties to keep up with demand, and as the business continues to grow, they plan to employ more and more women.
Another goal for Flora is to develop the business as a nest egg for her parents' futures. "The tax system doesn't work really well in Mongolia, so my parents don't have money for retirement," she explains. "I want to hand the business over to them. I can still help manage it, but I don't want them to have to worry about money when they grow old."
Flora's college education and her growing business would not be possible without the donors who support the IWORK program. "Thank you for giving hope and opportunity to all of us," says Flora. "Because sometimes opportunity is hard to find. And even when we see it, it's hard to grab it. What you have done and what you are doing is giving us the opportunity to change our future and hope for something better—for our countries and for ourselves."